Sorry. Online registration has closed.
Hands-on Calving & Dystocia Workshop - Spanish Speaking Only
---
Event Details
Date
March 24, 2023
Time
10:30am - 2:30pm
Location
CCE Madison County
100 Eaton St
Morrisville, NY 13408
Cost
Spanish Speaking Registration : $75.00
(addl attendee $75.00 ea.)
English Speaking Waiting List : Free
Host
Central New York Dairy and Field Crops
David Balbian
518-312-3592
email David Balbian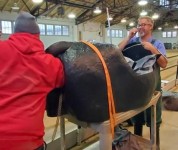 Program ends at 2:30pm, but there is an opportunity to stay longer and get more practice with the Dystocia Model.
Knowing the stages of labor and recognizing when a cow needs assistance are important skills. This workshop will educate attendees on those skills and will include a hands-on experience with a life size model of a cow ready to calve along with her calf. Attendees will be able to practice a variety of dystocia situations.
Topic at Each Station:
Delivering the Calf with the Dystocia Model
Stages of Labor & Using the Calving Tools
Neonatal Management
Postpartum Cow Care
Registration is limited to 8 Spanish speaking attendees. English speaking waiting list is also available.


Upcoming Events
Minority and Women-Onwed Business Enterprise (MWBE) Certification 101
December 13, 2023
Agritourism Monthly Workshops
September 18, 2023
October 16, 2023
November 20, 2023
December 18, 2023

Are you thinking of starting an agritourism business or are you currently operating one? Join our monthly lunch-hour, workshop virtual series and learn how to grow your agritourism business!
2024 Agricultural Marketing Webinar Series
January 8, 2024
January 22, 2024
January 29, 2024
February 12, 2024
February 19, 2024
March 11, 2024
March 25, 2024

Announcements
Sign Up for Our Weekly E-Newsletter
We send out a bi-weekly e-newsletter that has announcements, upcoming programs, and opportunities for you! Registration is quick, easy, and free.
Click here to sign up today!
Spotted Lanternfly
Lycorma delicatula
, or Spotted Lanternfly (SLF), is an invasive plant hopper from Asia and is an agricultural pest. In the United States, it was first found in Pennsylvania in 2014. Spotted Lanternfly has been found in New York State on Staten Island, all New York City boroughs, Long Island, Port Jervis, Sloatsburg, Orangeburg, Ithaca, Binghamton, Middletown, Newburgh, Highland, and the Buffalo area. SLF threatens the agriculture and forestry industries, and is also a nuisance pest. The nymphs and adults feed on over 70 different plants, but is especially detrimental to grapes, a black walnut, hops, maple trees and apples. New York State Ag and Markets supported CCE efforts to help bring awareness to communities and we developed this Public Service Announcement and would appreciate you sharing it with your member lists.



CCE Livestock Program Work Team
See the
Livestock Program Work Team website
for news, upcoming programs, and NYS Slaughterhouse Map.