1st Cutting Forage Quality Update ~ May 17, 2021
Erik Smith, Area Field Crop Specialist
Central New York Dairy and Field Crops
May 18, 2021
This is our fourth week of monitoring 1st cutting for quality in 2021. If you are not familiar with our procedures we use alfalfa height to predict Neutral Detergent Fiber (NDF) for alfalfa, alfalfa/grass mixed and grass stands. Alfalfa height has proven to be a reliable indicator of NDF values in the field. Here are numbers that are helpful when using alfalfa and grass height as an indicator of NDF content. In general:
Begin cutting 100% grass stands when nearby alfalfa is 14" tall to achieve the desired 50% NDF.
Begin cutting 50/50 alfalfa/grass stands when nearby alfalfa is 22" tall for the desired 44% NDF.
Begin cutting 100% alfalfa stands when alfalfa is 28" tall for the desired 40% NDF.
To achieve the desired NDF it is necessary to begin cutting at NDF values slightly lower than the desired value assuming some harvest and storage losses which the above alfalfa height values reflect. For example 28 inch tall alfalfa is closer to 38% NDF but you will need to start then to end up at 40% NDF.
Predicted days to cut are based on daily NDF increases for grasses of 1% point, 50/50 mixed stands of .8% points and alfalfa of .5% point. Typically, NDF increases about 0.8 to 1.2/day for grasses expecting the lower end of that range in cooler weather and the higher end in warm. Alfalfa NDF increases about 0.4 to 0.7/day again figuring the lower end of that range with cool temperatures and the higher in warm. See the following fact sheet for more details: Predicting Spring Fiber Content of Forages (folks receiving the snail mail version of our First Cutting Forage Quality Update have received this fact sheet in print).
Below is this week's chart*, but you can use the location and elevation as a guide to conditions that may be similar to your own. Always check your fields to verify your own heights and conditions!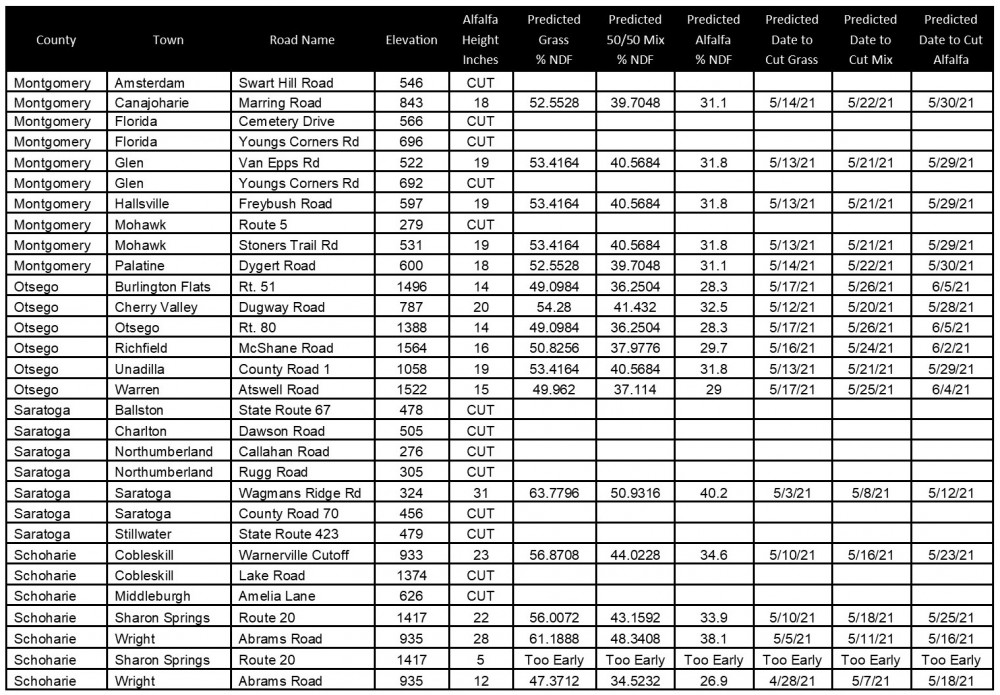 To summarize and maybe make it easier for those whose locations aren't listed, here's a chart showing the relationship between elevation and alfalfa heights across our region. If your location isn't listed, you can roughly estimate your alfalfa's height within a few inches based on your elevation; just follow the line.
As fields are cut, we lose some of the (already modest) predictive power of this chart. This week, the general decrease in alfalfa height is by about an inch for every ~150 ft rise in elevation. But as you can see, lots of variation there, so be sure to check your fields - they are likely to be ready very soon if they aren't already cut!: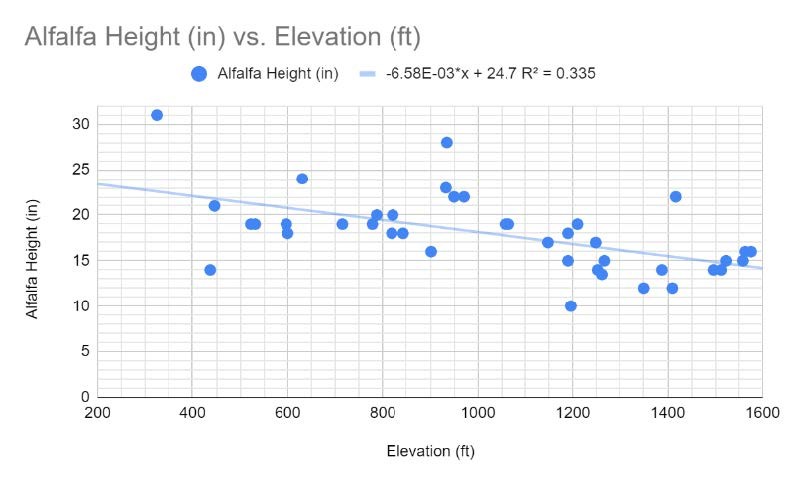 Hello sunshine-
Some of us were able to plant a few acres of corn toward the end of April, which has emerged. Spring small grains are up as well, winter grains are nearing maturity, corn is being planted all over, and hay is being cut. We're forecast to have hot, sunny weather through Friday before seeing some thundershowers this weekend, so if you have hay fields nearing their prime, now is the time.
Remember:
When it comes to taking first cut, we need to triage our fields: focus on those that can give us the highest quality now and shift focus away from those that are past their prime. "With the unique spring weather patterns this year, there are likely scenarios where fields are not accessible when the forage is at target maturity. As these fields become over mature set them aside (they likely still have value for non-lactating animals) and focus efforts on harvesting fields that are at target quality." - Betsy Hicks (CCE-SCNYDFC) and Joe Lawrence (PRO-DAIRY). See the following article for a more detailed explanation: Dynamic Harvest Schedules.
And watch the height of the seed head in relation to the height of your cutter bar on annual grasses. Peel the grass leaves down to the center to get a good look at your seed head and make sure it's going to be taken with the cut:
Upcoming Events
Minority and Women-Onwed Business Enterprise (MWBE) Certification 101
December 13, 2023
Agritourism Monthly Workshops
September 18, 2023
October 16, 2023
November 20, 2023
December 18, 2023

Are you thinking of starting an agritourism business or are you currently operating one? Join our monthly lunch-hour, workshop virtual series and learn how to grow your agritourism business!
2024 Agricultural Marketing Webinar Series
January 8, 2024
January 22, 2024
January 29, 2024
February 12, 2024
February 19, 2024
March 11, 2024
March 25, 2024

Announcements
Sign Up for Our Weekly E-Newsletter
We send out a bi-weekly e-newsletter that has announcements, upcoming programs, and opportunities for you! Registration is quick, easy, and free.
Click here to sign up today!
Spotted Lanternfly
Lycorma delicatula
, or Spotted Lanternfly (SLF), is an invasive plant hopper from Asia and is an agricultural pest. In the United States, it was first found in Pennsylvania in 2014. Spotted Lanternfly has been found in New York State on Staten Island, all New York City boroughs, Long Island, Port Jervis, Sloatsburg, Orangeburg, Ithaca, Binghamton, Middletown, Newburgh, Highland, and the Buffalo area. SLF threatens the agriculture and forestry industries, and is also a nuisance pest. The nymphs and adults feed on over 70 different plants, but is especially detrimental to grapes, a black walnut, hops, maple trees and apples. New York State Ag and Markets supported CCE efforts to help bring awareness to communities and we developed this Public Service Announcement and would appreciate you sharing it with your member lists.



CCE Livestock Program Work Team
See the
Livestock Program Work Team website
for news, upcoming programs, and NYS Slaughterhouse Map.