Field Crop Update May 31-June 4, 2021
Erik Smith, Area Field Crop Specialist
Central New York Dairy and Field Crops
June 4, 2021
1. Field Observations
While almost all of us have taken first cutting, I noticed that as of a few days ago, some fields in the higher elevations (especially to the west of our region) still were not cut - though this may no longer be true as I type! As alfalfa begins to regrow, we will want to monitor the new growth for alfalfa weevil and potato leafhopper. I will monitor these pests in fields around the region starting next week, but it's easy enough to do yourself as well: Potato Leafhopper Scouting and IPM Thresholds in Alfalfa.
Winter grains are looking excellent, and crops I've seen in the lower Mohawk Valley area are nearing full anthesis - and this is the time to monitor or spray to prevent fusarium head blight in winter wheat if you've had trouble with it in the past. I've seen an abundance of crown rust on buckthorn trees, which means we should keep an eye on spring oats. A number of different rust species can infect buckthorn and not oats, so this is another pest that is difficult to forecast.
I have yet to see any cereal leaf beetle in the fields I've checked, but that doesn't mean it isn't out there. Our friends in western NY have seen a few fields with lots of leaf beetle mating activity, so if you see any in your field, please let me know! We need to collect some larvae to hopefully reinvigorate what was a very successful biocontrol program that has lost steam over the years. So keep me in the loop….
Soybean aphid has been spotted in other parts of the state, so this is another pest to watch for as we get into June. I'll be checking for it as I make my rounds, but the management threshold is an average of 250 aphids/plant if plant development is prior to early pod fill (R4). Natural enemies can keep lower populations in check, so we should resist the temptation to spray on first sight.
A few of you have mentioned some random, uniform inconsistency in no-till corn emergence this spring. When we dig down, the kernels have germinated but have not yet broken the soil surface. This can happen as a result of a number of factors: the usual rocks getting in the way of consistent planting depth and seed-soil contact, inconsistency in the moisture of the ground at planting due to intermittent rainfall that can affect germination timing or seed depth, or a slight variability in the vigor of the seed. Regardless, all of these cases have shown that the seed germinated successfully. Time will tell just how far behind these stragglers are, and if it will impact yield. Hopefully the recent rain and warm weather will help the stragglers catch up. Cold temperatures at night can slow emergence, but the forecast is telling us that we will not have that issue over the next 7-10 days.
2. Growing Degree Days as of June 2nd (See: Climate Smart Farming Growing Degree Day Calculator)
Growing degree days (GDD) are calculated by taking the average daily temperature and subtracting the base temperature for development of a given organism ((High + Low)/2 - base temp = GDD). For corn silage, we are using base 50/86, as corn development starts at 50 degrees F and ceases above 86.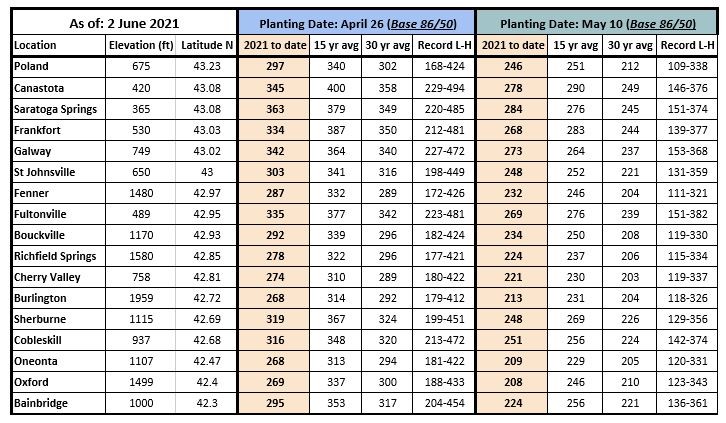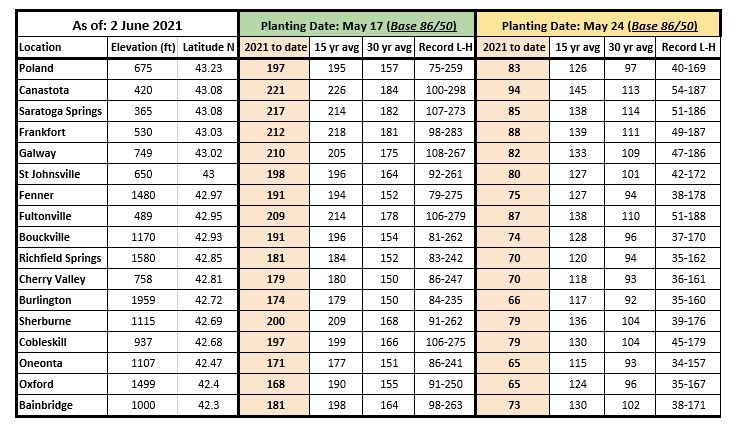 With the warm weather in the forecast, just about all of us can expect another 140-160 GDD over the next 7 days: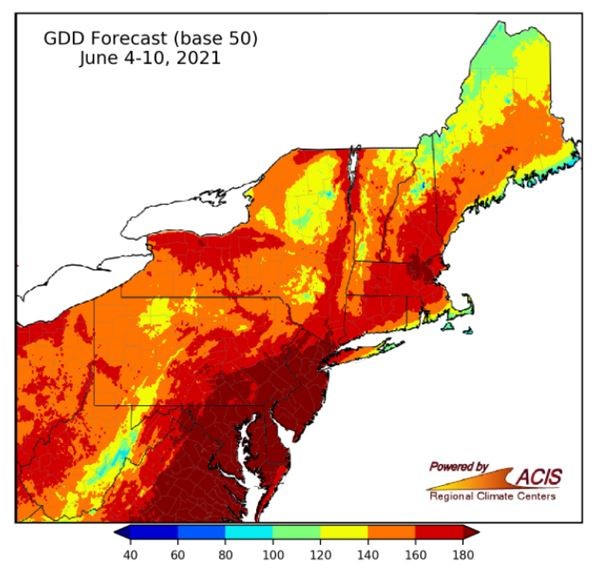 3. Pest Monitoring
This year we will again monitor for several pests of corn and soybean, including black cutworm, western bean cutworm, true armyworm, soybean cyst nematode, and the invasive soybean pests (and as-of-yet undetected) silver Y moth and golden twin spot moth.

Corn at V2 stage (2 fully emerged leaves with leaf collars) - 2 cut plants per 100
Trap captures of these pests have been relatively low across the state, with the exception of some locations in western NY and the north country (Lewis Co.). Cutting begins ~300 GDD (base 50) from moth capture, and the damage thresholds are as follows:
Corn at V3 stage (3 fully emerged leaves with leaf collars) - 3 cut plants per 100
Corn at V4 stage (4 fully emerged leaves with leaf collars) - 5 cut plants per 100
Corn at V5 stage (5 fully emerged leaves with leaf collars) - 7 cut plants per 100
The only point of reference for our region based on trap capture is the central Mohawk Valley where we captured our first moths around the beginning of May. We're at about 250 GDD for that region since then, so based on the forecast, we could begin to see cutting next week if there was substantial egg laying in the crop. There's no guarantee there will be, especially if your corn field is among other grassy habitats.
While we don't have data for other areas in the region, keep this in mind for your planting date and area (~300 GDD after moth capture/crop emergence). See this article for more information on damage and recommended products: NYS IPM Field Corn Pheromone Trapping Network for 2020 Caught Moths in Mid-April! - What's Cropping Up? Blog
Cutworm monitoring will continue for another week, after which we will continue monitoring true armyworm and begin to monitor for western bean cutworm in the pheromone traps. As I mentioned earlier, I will also begin monitoring alfalfa pests.
Enjoy the nice weather if you can, stock up on cold drinks, and bring the fans and A/C units out of storage!
I want to collect your fall armyworm adults and larvae! While Bt has done a good job of controlling fall armyworm on conventional corn here in the US, it's still a concern in our non-GMO corn and grass crops, and is a major invasive pest in other parts of the world. I'm teaming up with a group in southeast Asia who is studying this pest and its genetic variability around the world, so I'm looking for locations to place pheromone traps so I can collect specimens for them to evaluate. Let me know if you have a field that would be a good trapping candidate this summer, and regardless, please let me know if you encounter larvae:
We want to collect your cereal leaf beetle larvae! Many of you have had issues with cereal leaf beetle in small grains. In the late 1960s and 1970s, USDA released a parasitoid that controlled cereal leaf beetle at very high levels. It was established and did a good job for many decades. In some parts of NYS there are very low levels of these parasitoids left. We are looking to reestablish them in those areas. In 2020 NYS IPM (Jaime Cummings) conducted a survey on the percent parasitism of cereal leaf beetle larvae in several areas of the state. We are looking to conduct the same survey in 2021 as well as continuing to develop a parasitoid insectary refuge on the Cornell Farm in Aurora. This can help us reestablish the parasitoid in areas of the state that might need them. If you have cereal leaf beetle in your fields please let Erik Smith (eas56@cornell.edu) or Ken Wise (klw24@cornell.edu) know and we can come and collect them. We will also let you know the rates of parasitism of the beetles in your fields.

Field Crop Update May 31-June 4, 2021 (pdf; 430KB)
Upcoming Events
*CANCELLED* Artificial Insemination Training Course ~ Spanish
June 12 - June 13, 2023
Little Falls, NY
*CANCELLED* Two-day course. Lunch included. The course will have classroom and practical components. Registration limited to 12 Spanish speaking individuals. AI tool kits also available for an additional cost.
Ardent Mills Tour and Marketing Local Grains
June 23, 2023
Albany, NY
An education and networking opportunity for conventional & organic grain growers, organic grain buyers and ag professionals.
Announcements
Dave Balbian is Retiring
I have decided that it's time to retire. I find myself at a point in time where I'm now beginning to work with the 3rd generation of people on the farms in our region. It's time to bring in some new young blood into the team. June 28th will be my last official day on the job. I've enjoyed working with you all. The real satisfaction I've had with my work has been seeing producers take my advice and then be successful with it as they moved their business and family forward.
Spotted Lanternfly
Lycorma delicatula
, or Spotted Lanternfly (SLF), is an invasive plant hopper from Asia and is an agricultural pest. In the United States, it was first found in Pennsylvania in 2014. Spotted Lanternfly has been found in New York State on Staten Island, all New York City boroughs, Long Island, Port Jervis, Sloatsburg, Orangeburg, Ithaca, Binghamton, Middletown, Newburgh, Highland, and the Buffalo area. SLF threatens the agriculture and forestry industries, and is also a nuisance pest. The nymphs and adults feed on over 70 different plants, but is especially detrimental to grapes, a black walnut, hops, maple trees and apples. New York State Ag and Markets supported CCE efforts to help bring awareness to communities and we developed this Public Service Announcement and would appreciate you sharing it with your member lists.



Sign Up for Our Weekly E-Newsletter
We send out a bi-weekly e-newsletter that has announcements, upcoming programs, and opportunities for you! Registration is quick, easy, and free.
Click here to sign up today!
CCE Livestock Program Work Team
See the
Livestock Program Work Team website
for news, upcoming programs, and NYS Slaughterhouse Map.