Field Crop Update July 2, 2021
Erik Smith, Area Field Crop Specialist
Central New York Dairy and Field Crops
July 6, 2021
1. Field Observations
Most corn in the area is V5-V8, and just about all beans have put on at least their first trifoliate leaves. The window is cloing for herbicide application in corn, and we're now entering the stage where Nitrogen demand is surging - from V8 until pre-tassel.
Many folks are either a few weeks past second cut, or will take it by this time next week. Now would be a good time to either clip or spot-spray troublesome weeds in hayfields and pastures, as they are likely to be surging above the rest of the crop at this point. Grasses may begin to slow down as the weather heats up and dries out, but perennial weeds will be in their prime. No matter how, take them down before they set seed.
According to NOAA, Utica experienced hail this week, but none was reported in our eight-county region. In case we do get some hail in the near future, here are some tips for assessing the implications of hail damage at this time of year:
Wait 7 days to fully assess the damage, as this is usually enough time for the plant to recover.
Soybeans are much more tolerant to hail damage before the reproductive stage, and even a 66% defoliation event at R1 or a 33% defoliation at R3 will only reduce yield by ~6%.
Corn damage from hail is usually minimal prior to V7. Consult this publication from Wisconsin for more detailed information on how to proceed after V7: Hail damage effects on corn-Wisconsin Corn Agronomy
2. Growing Degree Days as of June 2nd (See: Climate Smart Farming Growing Degree Day Calculator)
Growing degree days (GDD) are calculated by taking the average daily temperature and subtracting the base temperature for development of a given organism ((High + Low)/2 - base temp = GDD). For corn silage, we are using base 50/86, as corn development starts at 50 degrees F and ceases above 86.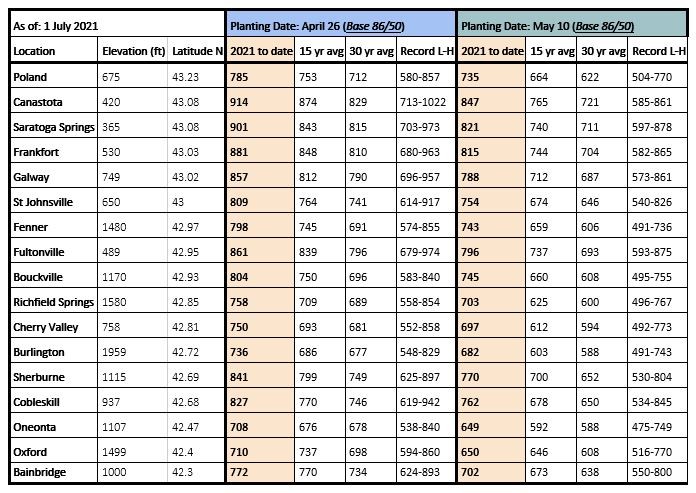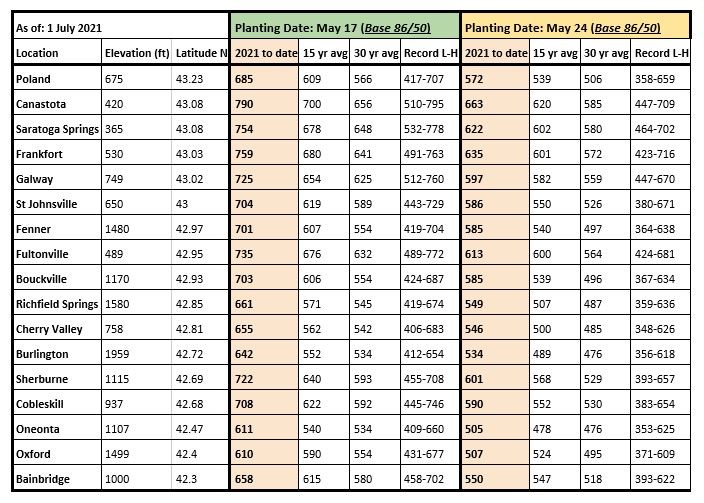 We exceeded the high temps that were initially forecast this week, but hopefully most of us picked up some rain. Hail was a possibility, but I have not seen reports of any in the area. The weather should be fairer, if not just as warm to begin next week.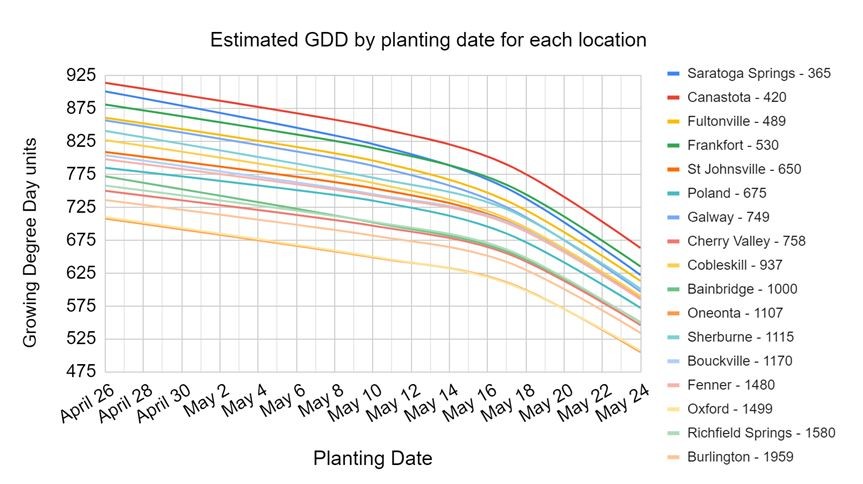 Trying something new this week…. Surely not everyone planted their corn on one of the planting dates or in one of the locations I have listed, so this chart shows the estimated GDD for each location on each day (based on the actual GDD on those four dates and estimating the GDD on the days in-between). Furthermore, the locations are ordered top-to-bottom from lowest elevation to highest. The GDD at locations on this list with nearly identical elevations were generally no more than 50 GDD apart, and usually within 25 GDD. So if your farm is near one of the locations on this list but there's a location here that more closely matches your elevation, try that instead. You can find GDDs for your own specific location and planting date using the Climate Smart Farming CSF Growing Degree Day Calculator, but for those who might have more difficulty using that tool, maybe this chart can help.

Still unchanged for 4 weeks running, folks in Fulton, Herkimer, and northern Madison counties are still in the "abnormally dry" category in the drought monitor. Hopefully the last few days' rain has helped the situation: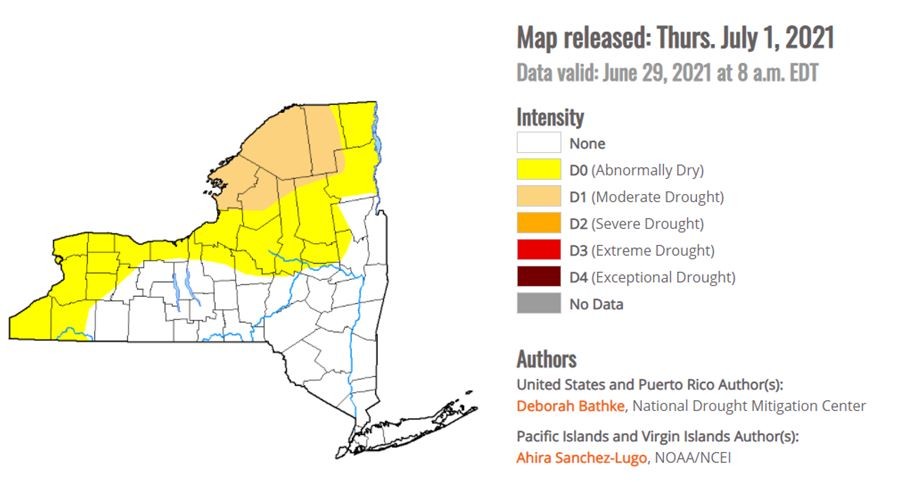 3. Pest Monitoring
Potato leafhoppers are here. Most fields that I sampled were either just recently cut (after being near/above threshold last week), while the rest were above threshold this week - though they are also due to be cut this week. So far I've yet to see any fields above threshold while still being more than 10 days from harvest, but we may come across this over the next few weeks. So be on the lookout for yellowing foliage like this:
Sometimes rain can knock down these pests, so we'll see what kind of effect our recent wet weather has had on them.
Potato Leafhopper Scouting and IPM Thresholds in Alfalfa
True armyworm traps yielded one moth each in our Madison Co trap and our Herkimer trap. This is likely from the second generation, which could cause damage in grass hayfields. We'll keep monitoring them for another few weeks.
The first week of western bean cutworm trapping yielded one moth in our Montgomery Co trap. High trap numbers suggest that there may be significant eggs laid in pre-tassel corn in that location, and larvae may cause damage to ears. We'll keep an eye on this pest through August.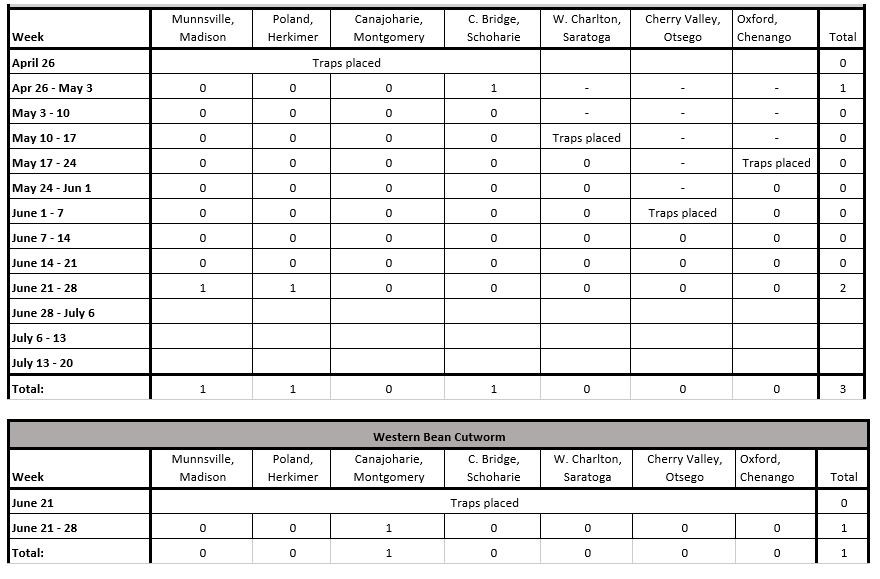 Field Crop Update July 2, 2021 (pdf; 690KB)
Upcoming Events
Beef Quality Assurance
July 7, 2022
July 13, 2022
August 8 - August 9, 2022August 11, 2022
October 5 - October 6, 2022
Online Classroom Trainings and Chute-side Trainings. Pick one of each.
Topics covered include cattle nutrition, handling and vaccine protocols.
Announcements
Sign Up for Our Weekly E-Newsletter
We send out a bi-weekly e-newsletter that has announcements, upcoming programs, and opportunities for you! Registration is quick, easy, and free.
Click here to sign up today!
CCE Livestock Program Work Team
See the
Livestock Program Work Team website
for news, upcoming programs, and NYS Slaughterhouse Map.
Farm Service Agency is Hiring!
Internship/Temporary Positions through 9/30 available. Looking to fill 5 vacancies in Eastern New York.