Field Crop Update July 22, 2021
Erik Smith, Area Field Crop Specialist
Central New York Dairy and Field Crops
Last Modified: July 23, 2021
1. Field Observations
As I type, I know many folks are out cutting or spraying - if they are fortunate enough to be able to enter their fields. We've had some historic rainfall this month, but the forecast looks mostly clear over the next 7-10 days.
A quick reminder: if you buy used equipment - especially from out-of-state ­- make sure they clean it before they ship it! The last thing we need is another hard-to-manage weed or insect pest. A framer in another region of our state discovered large amounts of weed seeds in some used machinery that was shipped in from another part of the country. The seeds are currently being analyzed, but this is how we get invasives and herbicide resistant weeds. Luckily, they spotted the issue before taking it into their fields!
Corn is tasseling just about everywhere. When planning for silage harvest, take note of your silking date:
"The date of silking can be used to determine silage harvest date based on growing degree day (GDD) accumulation. Work in New York by Dr. Bill Cox Using the Number of Growing Degree Days from the Tassel/Silking Date to Predict Corn Silage Harvest Date showed that the crop needs 750-800 GDD's after silking to reach a whole plant DM of 32 percent. Under typical late season dry down conditions we can expect the crop to reach 35 percent DM four to seven days later." - J. Lawrence, K. Czymmek (Corn Silage 2019: Two Different Crops)
Soybeans are entering the R stages all over our region, so this is the time to decide whether or not to protect them from white mold if you've had a history of it in your fields and if you have the option to do so. Given the weather at the moment, the risk is high just about everywhere. For more information on when and what to spray for white mold, here is that info from NYSIPM: White Mold of Soybean: What to expect with variable growth stages - What's Cropping Up? Blog (cornell.edu) and here is a product table for other diseases of soybean in NY: Diseases of Soybeans | Field Crops (cornell.edu).
Click to see the latest Oneida County Scouting Report, Northwest NY Crop Alert, and Capital Area Ag Report.
2. Growing Degree Days as of July 14th (See: Climate Smart Farming Growing Degree Day Calculator)
Growing degree days (GDD) are calculated by taking the average daily temperature and subtracting the base temperature for development of a given organism ((High + Low)/2 - base temp = GDD). For corn silage, we are using base 50/86, as corn development starts at 50 degrees F and ceases above 86. Your actual silk date will likely fall sometime within this range of dates no matter where you are and what variety you're expecting to chop. Corn needs 750-800 GDD after silking to reach a whole plant DM of 32%. Under typical late season dry down conditions we can expect the crop to reach 35% DM four to seven days later: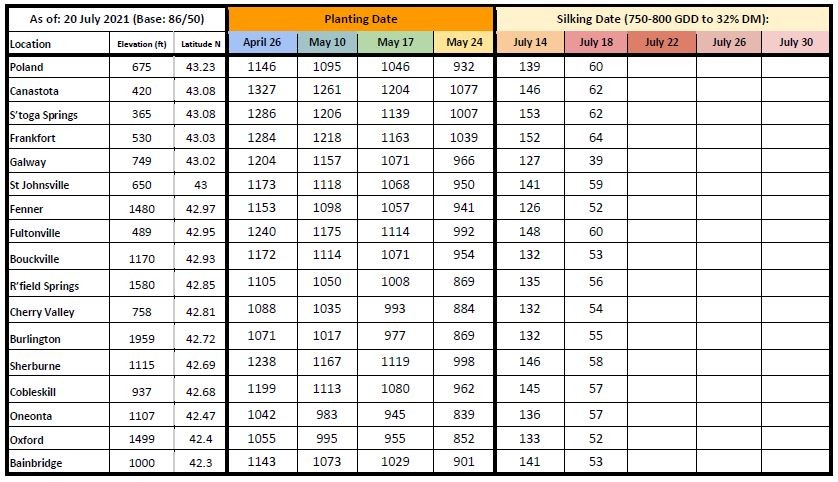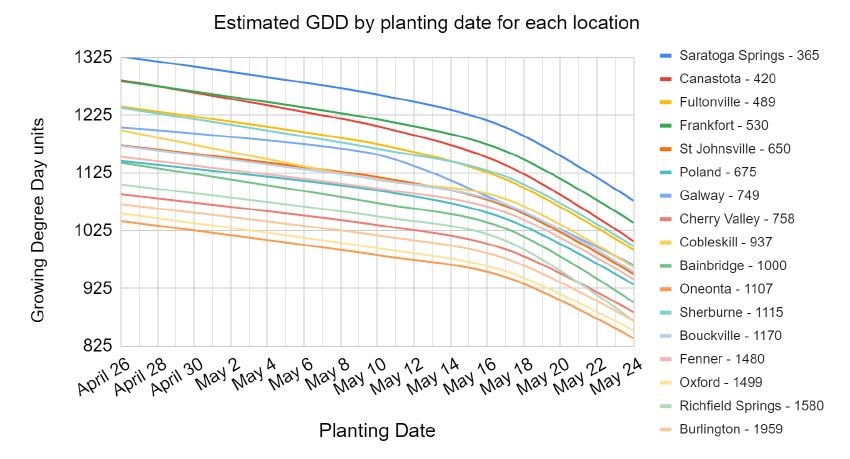 Not everyone planted their corn on one of the planting dates or in one of the locations I have listed, so this chart shows the estimated GDD for each location on each potential planting date in between (based on the actual GDD on those four dates). The locations are ordered top-to-bottom from lowest elevation to highest (the number after the location name is the elevation in feet above sea level). The GDD at locations on this list with nearly identical elevations were generally no more than 50 GDD apart, and usually within 25 GDD. So if your farm is near one of the locations on this list but there's a location here that more closely matches your elevation, try that instead. You can find GDDs for your own specific location and planting date using the Climate Smart Farming CSF Growing Degree Day Calculator, but for those who might have more difficulty using that tool, maybe this chart can help.
Most of the state is not under threat of drought (quite the opposite for some of us, unfortunately). Thankfully the forecast is mostly clear for the next week or so.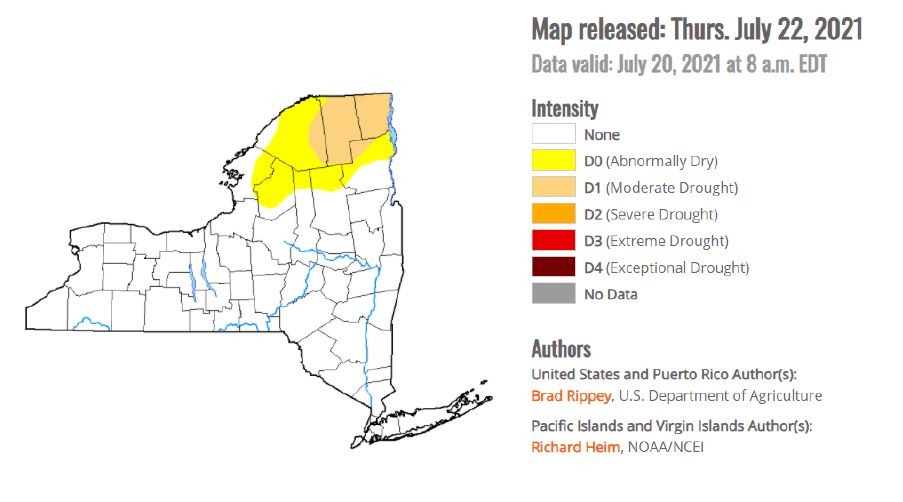 3. Pest Monitoring
Potato leafhopper populations have bounced back in some areas, while others have remained below threshold. So keep an eye on those new seedings.
True armyworm traps were clean once again, while western bean cutworm (WBC) is another story. Our Herkimer trap had 7, while our Saratoga trap had 14. But these numbers pale in comparison to those reported from around the state (some in the hundreds). Regardless, pre-tassel corn is the most attractive to these moths, so it will be interesting to see how things play out since many of our corn crops around the region have gone to tassel already… some of us may be in the clear. But those in the higher elevations and with later plantings, take note! WBC lay eggs in the upper third of corn plants (see pics below). Purdue states that the economic threshold for this pest has been reached when 8% of plants have egg masses, and 5% of plants with egg masses and/or young larvae feeding. Bt corn with Cry1F is resistant to WBC, but not earlier events.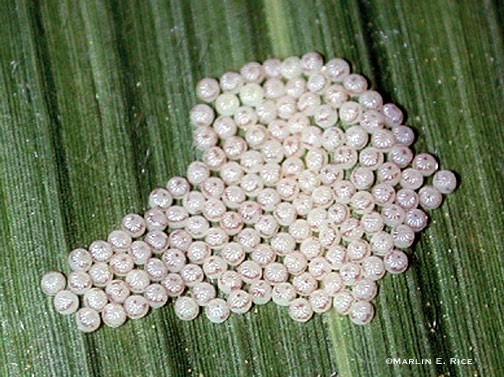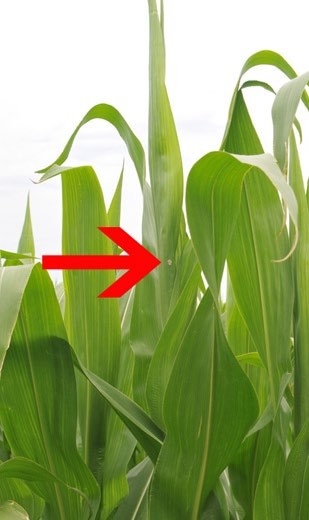 Soybeans currently flowering are still at high risk for white mold, so now is the time to protect them (R1-R3, flowering to beginning pod).

Some helpful links:
New York State IPM Weekly Field Crops Pest Report
Video: Potato Leafhopper Scouting and IPM Thresholds in Alfalfa
Field Crop Update 7-22-21 (pdf; 755KB)
Upcoming Events
Beef Quality Assurance
July 7, 2022
July 13, 2022
August 8 - August 9, 2022August 11, 2022
October 5 - October 6, 2022
Online Classroom Trainings and Chute-side Trainings. Pick one of each.
Topics covered include cattle nutrition, handling and vaccine protocols.
Announcements
Sign Up for Our Weekly E-Newsletter
We send out a bi-weekly e-newsletter that has announcements, upcoming programs, and opportunities for you! Registration is quick, easy, and free.
Click here to sign up today!
CCE Livestock Program Work Team
See the
Livestock Program Work Team website
for news, upcoming programs, and NYS Slaughterhouse Map.
Farm Service Agency is Hiring!
Internship/Temporary Positions through 9/30 available. Looking to fill 5 vacancies in Eastern New York.