Field Crop Update July 30, 2021
Erik Smith, Area Field Crop Specialist
Central New York Dairy and Field Crops
July 30, 2021
1. Field Observations
The rain just keeps falling, and our GDD accumulations are also falling below the 15- and 30-yr averages, meaning our projected corn silage harvest dates are moving closer to September. Our earliest-tasseling silage corn would be on track to harvest by the 3rd week of August if we moved closer to the 15-yr normal, but at this rate we are not projected to reach our desired 750-800 post-silking GDD until at least a week later. But stay tuned….
So far the corn foliage is looking very clean, and now that most corn has tasseled, we are hopefully past the period of greatest risk to yield loss from pathogens such as grey leaf spot and northern corn leaf blight. Still, there can be some potential for yield loss, but the risk is low at this point.
An update about the north country farmer whose used midwestern combine had weeds seeds in it: 215 seeds turned out to be waterhemp, an invasive pigweed notorious for having evolved resistance to several classes of insecticides. Mike Hunter of the Northern NY Ag Team alerted Cornell weed scientists Lynn Sosnoskie (Cornell Agritech) and Bryan Brown (NYSIPM), who grew the seeds for proper identification (see pic). If these seeds had made it into the farmer's field, it would have been a management nightmare for years to come. See the attached pdf publication by Dr. Lynn Sosnoskie for ID of this and other invasive, herbicide-resistant pigweeds.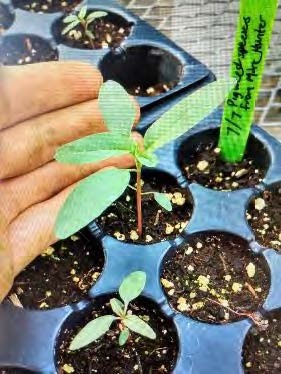 2. Growing Degree Days (GDD) for planting date and silking date as of July 28th (Climate Smart Farming Growing Degree Day Calculator)
GDD are calculated by taking the average daily temperature and subtracting the base temperature for development of a given organism ((High + Low)/2 - base temp = GDD). For corn silage, we are using base 50/86, as corn development starts at 50F and ceases above 86F. Your actual silk date will likely fall sometime within this range of dates no matter where you are and what variety you're expecting to chop. Corn needs 750-800 GDD after silking to reach a whole plant DM of 32%. Under typical late season dry down conditions we can expect the crop to reach 35% DM four to seven days later: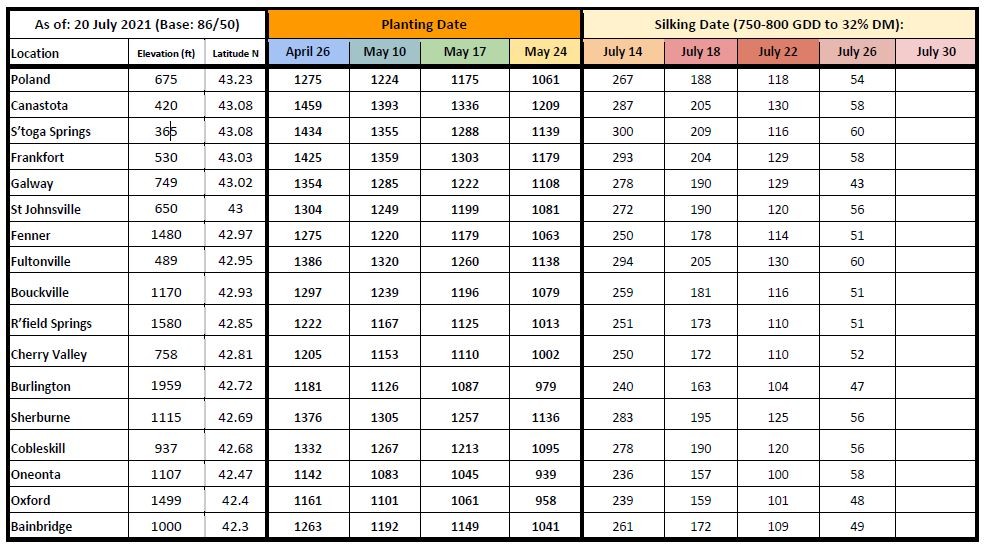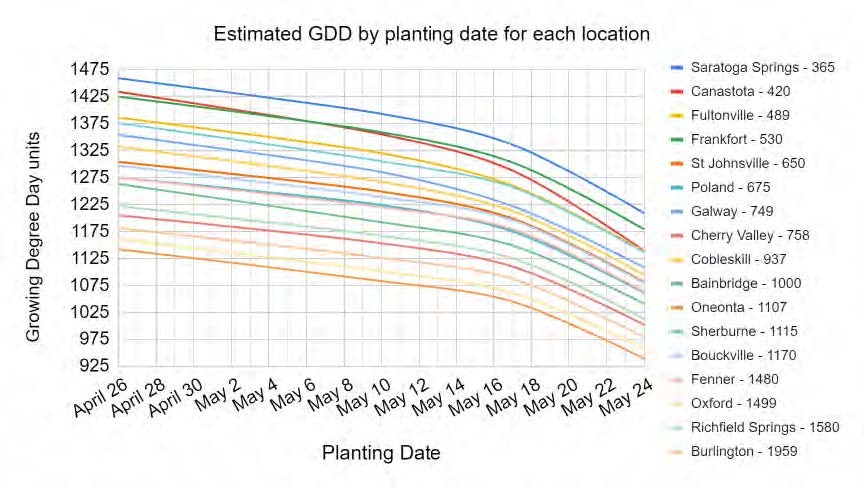 Not everyone planted their corn on one of the planting dates or in one of the locations I have listed, so this chart shows the estimated GDD for each location on each potential planting date in between (based on the actual GDD on those four dates). The locations are ordered top-to-bottom from lowest elevation to highest (the number after the location name is the elevation in feet above sea level). So if your farm is near one of the locations on this list but there's a location here that more closely matches your elevation, try that instead. You can find GDDs for your own specific location and planting date using the Climate Smart Farming CSF Growing Degree Day Calculator, but for those who might have more difficulty using that tool, maybe this chart can help.
3. Pest Monitoring
True armyworm season is over, but western bean cutworm (WBC) season is ramping up. We had at least 1 WBC in all but one trap this week, but again, these numbers pale in comparison to those reported from around the state (some in the thousands). Regardless, pre-tassel corn is the most attractive to these moths, so while we are now seeing WBC (perhaps peaking) in these fields, all have long-since tasseled, so these moths may be laying eggs elsewhere. Sure enough, I've scoured each one of these corn fields and have yet to see one WBC egg mass. But those in the higher elevations and with later plantings, take note! WBC lay eggs in the upper third of corn plants (see pics at right). Purdue states that the economic threshold for this pest has been reached when 8% of plants have egg masses, and 5% of plants with egg masses and/or young larvae feeding. Bt corn with Cry1F is resistant to WBC, but not earlier Bt events.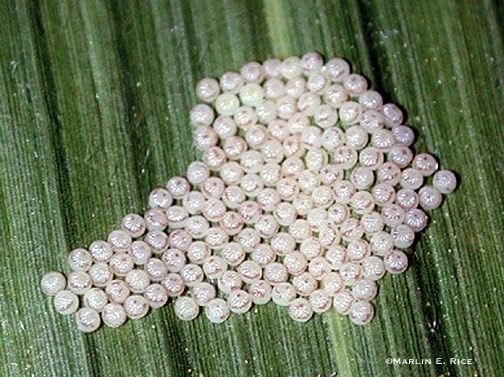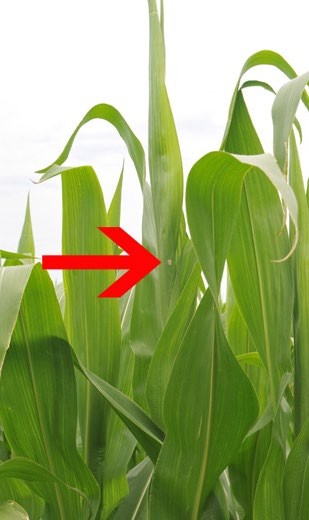 Some helpful links:
New York State IPM Weekly Field Crops Pest Report
Video: Potato Leafhopper Scouting and IPM Thresholds in Alfalfa
The Importance of Pigweeds and Pigweed ID (pdf; 1028KB)
Field Crop Update July 30, 2021 (pdf; 194KB)
Upcoming Events
Beef Quality Assurance
July 7, 2022
July 13, 2022
August 8 - August 9, 2022August 11, 2022
October 5 - October 6, 2022
Online Classroom Trainings and Chute-side Trainings. Pick one of each.
Topics covered include cattle nutrition, handling and vaccine protocols.
Announcements
Sign Up for Our Weekly E-Newsletter
We send out a bi-weekly e-newsletter that has announcements, upcoming programs, and opportunities for you! Registration is quick, easy, and free.
Click here to sign up today!
CCE Livestock Program Work Team
See the
Livestock Program Work Team website
for news, upcoming programs, and NYS Slaughterhouse Map.
Farm Service Agency is Hiring!
Internship/Temporary Positions through 9/30 available. Looking to fill 5 vacancies in Eastern New York.