Field Crop Update, August 13, 2021
Erik Smith, Area Field Crop Specialist
Central New York Dairy and Field Crops
August 13, 2021
1. Field Observations
After a wet year, we're finally beginning to see some fungal diseases in corn and soybean crops.
Northern corn leaf blight (NCLB) and frogeye leaf spot of soy (FLS) can be damaging foliar diseases if symptoms manifest early enough in the season, prior to the R stages (thankfully not the case this year). But silage corn can surely suffer yield loss from damage to the foliage.
Currently, the best management strategies for both crops are to plant resistant cultivars and to rotate to non-host crops (soy is not a host of NCLB, and corn is not a host of FLS), though the use of fungicides can help.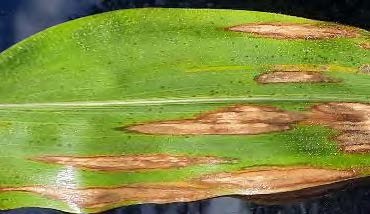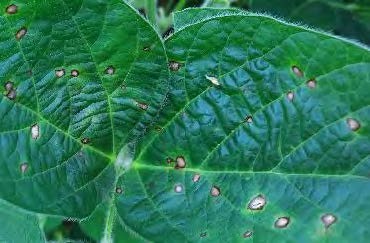 Click the following links for management info and fungicide options for Northern Corn Leaf Blight and various soybean diseases: Efficacy of soybean disease control based on appropriate application timing.
Click to see the latest Oneida County Scouting Report, Northwest NY Crop Alert, Capital Area Ag Report, and New York State IPM Weekly Field Crops Pest Report (cornell.edu)
2. Growing Degree Days (GDD) for planting date and silking date as of July 28th (Climate Smart Farming Growing Degree Day Calculator)
GDD are calculated by taking the average daily temperature and subtracting the base temperature for development of a given organism ((High + Low)/2 - base temp = GDD). For corn silage, we are using base 50/86, as corn development starts at 50F and ceases above 86F. Your actual silk date will likely fall sometime within this range of dates no matter where you are and what variety you're expecting to chop. Corn needs 750-800 GDD after silking to reach a whole plant DM of 32%. Under typical late season dry down conditions we can expect the crop to reach 35% DM four to seven days later: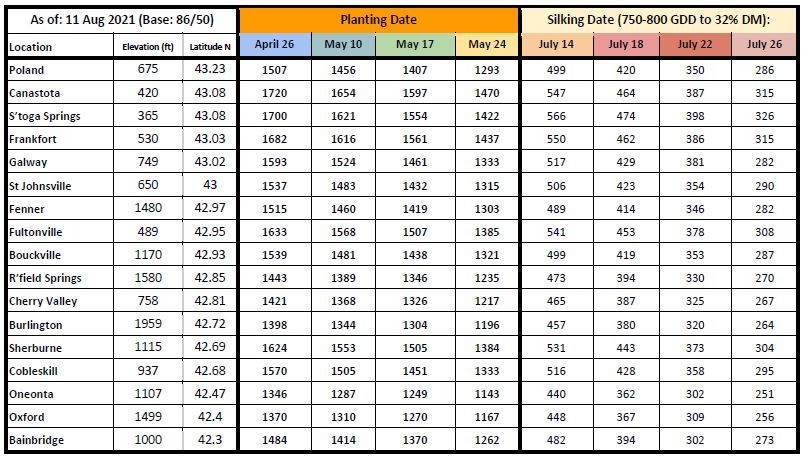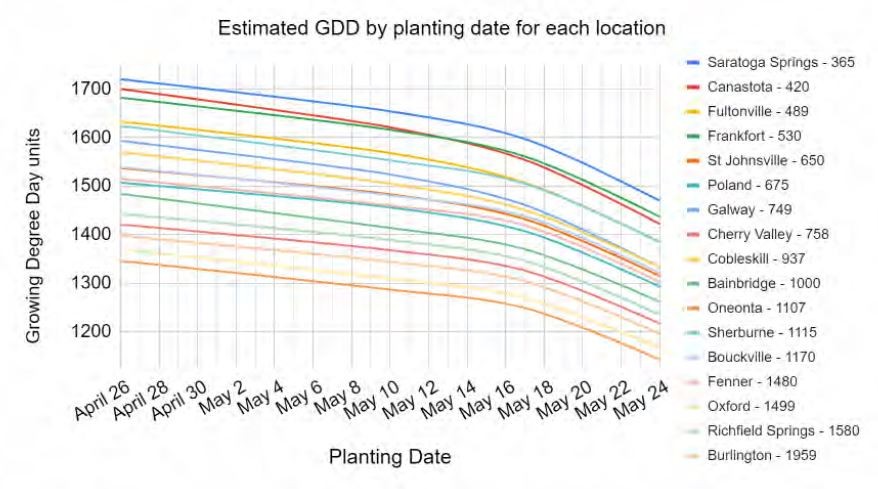 Not everyone planted their corn on one of the planting dates or in one of the locations I have listed, so this chart shows the estimated GDD for each location on each potential planting date in between (based on the actual GDD on those four dates). The locations are ordered top-to-bottom from lowest elevation to highest (the number after the location name is the elevation in feet above sea level). So if your farm is near one of the locations on this list but there's a location here that more closely matches your elevation, try that instead. You can find GDDs for your own specific location and planting date using the Climate Smart Farming CSF Growing Degree Day Calculator, but for those who might have more difficulty using that tool, maybe this chart can help.
3. Pest Monitoring
Once again this week, potato leafhopper counts have been quite low. Many fields are fresh off their most recent cuttings, but even fields with 8-16" of regrowth are looking clean so far; well-below threshold.
Video: Potato Leafhopper Scouting and IPM Thresholds in Alfalfa
As expected, western bean cutworm (WBC) is on the decline (see table). Though I still have yet to see an egg mass in corn, I suspect the more water-stressed corn may have been a target for them due to delayed tasseling.

Field Crop Update, July 13, 2021 (pdf; 186KB)
Upcoming Events
Beef Quality Assurance
July 7, 2022
July 13, 2022
August 8 - August 9, 2022August 11, 2022
October 5 - October 6, 2022
Online Classroom Trainings and Chute-side Trainings. Pick one of each.
Topics covered include cattle nutrition, handling and vaccine protocols.
Announcements
Sign Up for Our Weekly E-Newsletter
We send out a bi-weekly e-newsletter that has announcements, upcoming programs, and opportunities for you! Registration is quick, easy, and free.
Click here to sign up today!
CCE Livestock Program Work Team
See the
Livestock Program Work Team website
for news, upcoming programs, and NYS Slaughterhouse Map.
Farm Service Agency is Hiring!
Internship/Temporary Positions through 9/30 available. Looking to fill 5 vacancies in Eastern New York.