Field Crop Update, September 17, 2021
Erik Smith, Area Field Crop Specialist
Central New York Dairy and Field Crops
September 17, 2021
1. Field Observations
Not much to report this week as many folks are harvesting hay and silage, while soybean and picking corn are rapidly maturing. Here is the link to our recent webinar on things to keep in mind in advance of silage harvest if you're still on track to top-off your silos and bunks: 2021 Central NY Corn Silage Pre-Harvest webinar
As we talk about harvest timing and predicting whole plant dry matter, remember that prediction methods like growing degree days can only get you into the ballpark - there is no substitute for checking your crop to make sure you're harvesting at the right time. Please read the latest article from Joe Lawrence on this subject: Corn silage harvest timing: Not all growing degree days are created equal
And there is of course still time to plant your cover crops. The window to plant legumes is all but closed, but you can seed small grain cover crops into your now-empty fields for another few weeks. The following tables are adapted from: Rye cover crop mgmt:


And the following tables from NRCS Cover Crop Planting Specification Guide (New Hampshire, NH-340)


And once again, take note of problem areas in your soybean fields and let me know if you would like me to sample your field for soybean cyst nematode. This pest is widespread in NY, and I'm afraid that this year's wet conditions may have allowed them to spread more easily through infested fields. Sampling and analysis are free via grant funding from the NY Corn and Soybean Growers Association, though I am limited in the number of samples I can submit. So let me know.
2. Growing Degree Days (GDD) for planting date and silking date (Climate Smart Farming Growing Degree Day Calculator)
For corn silage, we are using base 50/86, as corn development starts at 50F and ceases above 86F. Silage corn needs 750-800 GDD (depending on hybrid maturity) after silking to reach a whole plant DM of 32%. Remember that we can expect to accumulate 20-25 GDD per day, or even up to 30, so this is not a large window. Under typical late season dry down conditions we can expect the crop to reach 35% DM four to seven days later. Check your crop to see how close you may be to harvest: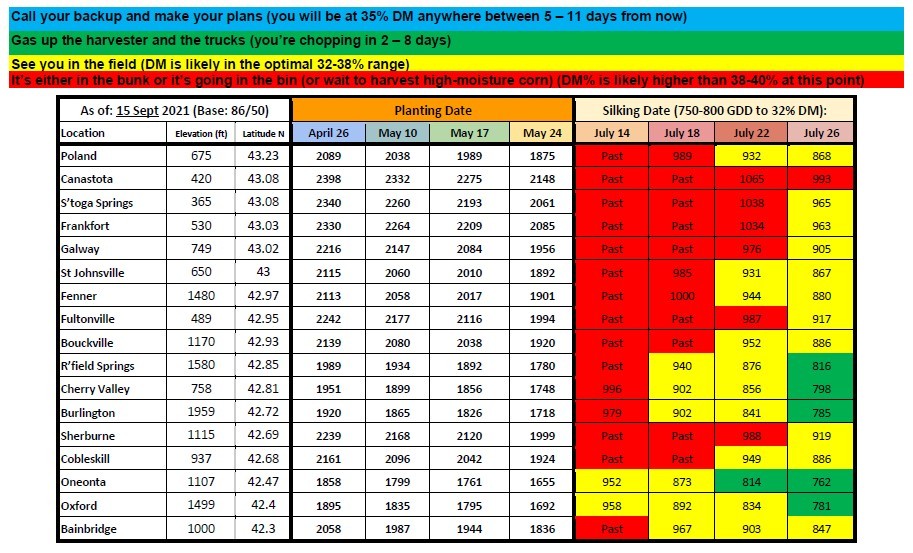 Not everyone planted their corn on one of the planting dates or in one of the locations I have listed, so this chart shows the estimated GDD for each location on each potential planting date in between (based on the actual GDD on those four dates). The locations are ordered top-to-bottom from lowest elevation to highest (the number after the location name is the elevation in feet above sea level). So if your farm is near one of the locations on this list but there's a location here that more closely matches your elevation, try that instead. You can find GDDs for your own specific location and planting date using the Climate Smart Farming CSF Growing Degree Day Calculator, but for those who might have more difficulty using that tool, maybe this chart can help.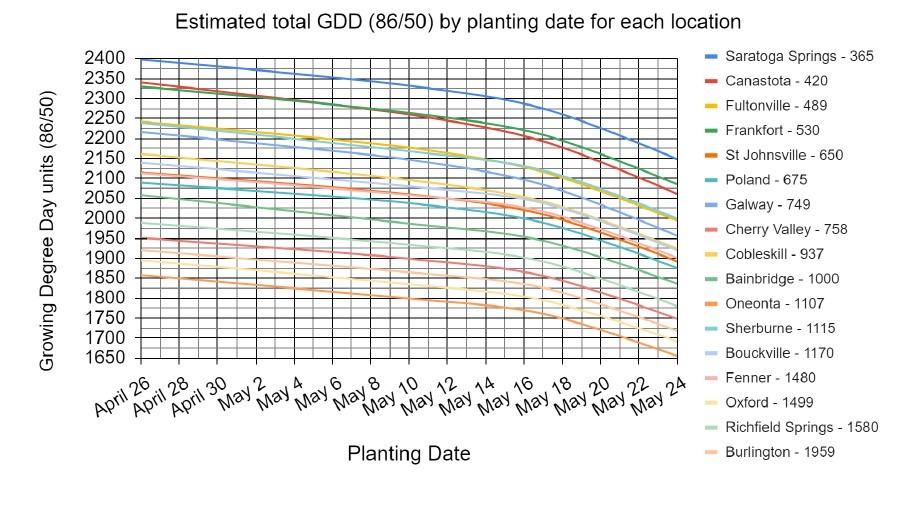 As we get closer to silage harvest, remember that silage corn needs 750-800 GDD after silking to reach a whole plant DM of 32% (depending on hybrid maturity). Under typical late season dry down conditions we can expect the crop to reach 35% DM four to seven days later. When using this chart, remember that actual GDD were calculated for July 14, 18, 22, and 26 silking dates. Dates in-between those four dates are estimates. As always, remember that GDD estimates are good for getting you in the ballpark, but are no substitute for actual conditions in the field.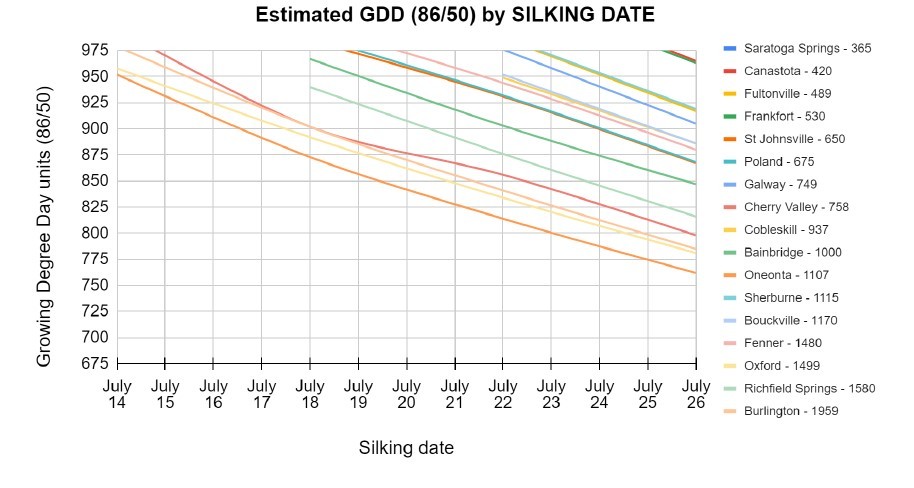 Field Crop Update, September 17, 2021 (pdf; 1027KB)
Upcoming Events
*CANCELLED* Artificial Insemination Training Course ~ Spanish
June 12 - June 13, 2023
Little Falls, NY
*CANCELLED* Two-day course. Lunch included. The course will have classroom and practical components. Registration limited to 12 Spanish speaking individuals. AI tool kits also available for an additional cost.
Ardent Mills Tour and Marketing Local Grains
June 23, 2023
Albany, NY
An education and networking opportunity for conventional & organic grain growers, organic grain buyers and ag professionals.
Announcements
Dave Balbian is Retiring
I have decided that it's time to retire. I find myself at a point in time where I'm now beginning to work with the 3rd generation of people on the farms in our region. It's time to bring in some new young blood into the team. June 28th will be my last official day on the job. I've enjoyed working with you all. The real satisfaction I've had with my work has been seeing producers take my advice and then be successful with it as they moved their business and family forward.
Spotted Lanternfly
Lycorma delicatula
, or Spotted Lanternfly (SLF), is an invasive plant hopper from Asia and is an agricultural pest. In the United States, it was first found in Pennsylvania in 2014. Spotted Lanternfly has been found in New York State on Staten Island, all New York City boroughs, Long Island, Port Jervis, Sloatsburg, Orangeburg, Ithaca, Binghamton, Middletown, Newburgh, Highland, and the Buffalo area. SLF threatens the agriculture and forestry industries, and is also a nuisance pest. The nymphs and adults feed on over 70 different plants, but is especially detrimental to grapes, a black walnut, hops, maple trees and apples. New York State Ag and Markets supported CCE efforts to help bring awareness to communities and we developed this Public Service Announcement and would appreciate you sharing it with your member lists.



Sign Up for Our Weekly E-Newsletter
We send out a bi-weekly e-newsletter that has announcements, upcoming programs, and opportunities for you! Registration is quick, easy, and free.
Click here to sign up today!
CCE Livestock Program Work Team
See the
Livestock Program Work Team website
for news, upcoming programs, and NYS Slaughterhouse Map.