1st Cutting Forage Quality Update ~ May 17, 2022
Erik Smith, Area Field Crop Specialist
Central New York Dairy and Field Crops
May 18, 2022
Alfalfa height has proven to be a reliable indicator of NDF values in the field. Here are numbers that are helpful when using alfalfa and grass height as an indicator of NDF content. In general:
Begin cutting 100% grass stands when nearby alfalfa is 14" tall to achieve the desired 50% NDF.
Begin cutting 50/50 alfalfa/grass stands when nearby alfalfa is 22" tall for the desired 44% NDF.
Begin cutting 100% alfalfa stands when alfalfa is 28" tall for the desired 40% NDF.
To achieve the desired NDF it is necessary to begin cutting at NDF values slightly lower than the desired value assuming some harvest and storage losses which the above alfalfa height values reflect. For example 28 inch tall alfalfa is closer to 38% NDF but you will need to start then to end up at 40% NDF.
Predicted days to cut are based on daily NDF increases for grasses of 1% point, 50/50 mixed stands of .8% points and alfalfa of .5% point. Typically, NDF increases about 0.8 to 1.2/day for grasses expecting the lower end of that range in cooler weather and the higher end in warm. Alfalfa NDF increases about 0.4 to 0.7/day again figuring the lower end of that range with cool temperatures and the higher in warm. See the following fact sheet for more details: Predicting Spring Fiber Content of Forages. Below is this week's chart, but you can use the location and elevation as a guide to conditions that may be similar to your own. Always check your fields to verify your heights and conditions!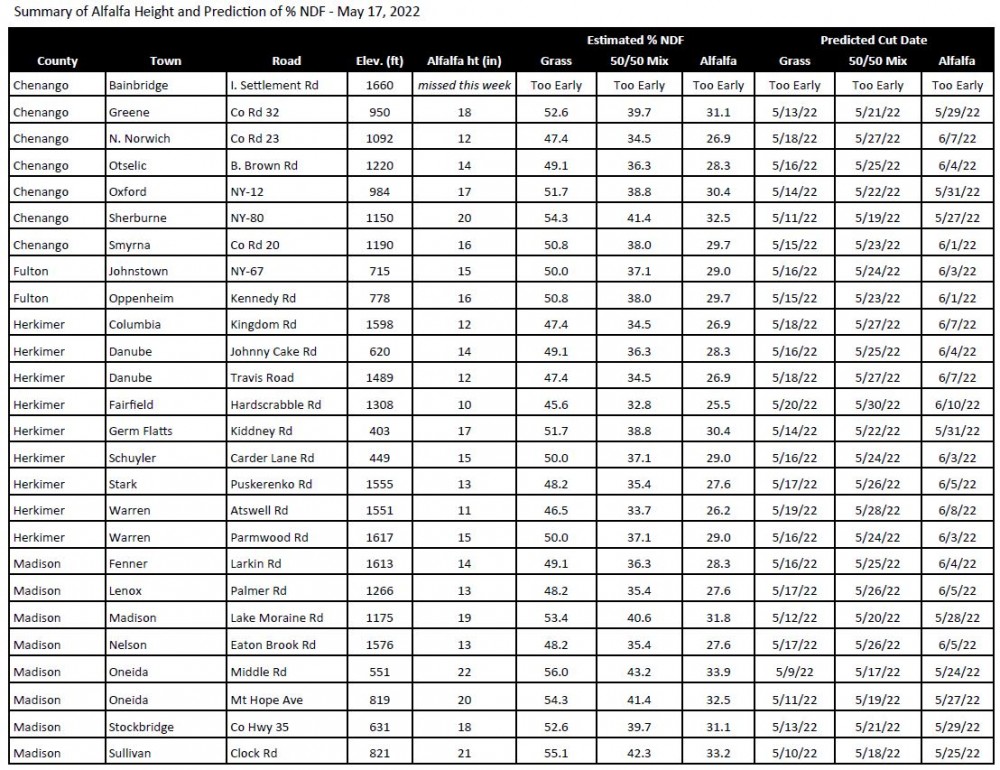 Some folks with mixed stands should be ready to harvest by the end of this week. We began the season a few weeks behind last year's development, but with the warm weather, we've all but caught up to last year's schedule. Hopefully you've planted your corn, because alfalfa harvest time is here.
Winter grains are ready to head out, so please check on your fields' development if you're harvesting for baleage.
Still no leafhoppers, but I have seen some alfalfa weevil damage in a few fields that were farther along. The corn pheromone traps I've already set yielded a few cutworm/armyworm this week, so we'll be keeping an eye on corn as it pops up. I'll begin to report those numbers next week if we have any.
To summarize and maybe make it easier for those whose locations aren't listed, here's a chart showing the relationship between elevation and alfalfa heights across our region. If your location isn't listed, you can roughly estimate alfalfa's height within a few inches based on the field's elevation; just follow the line. The effect of elevation on alfalfa height is getting more pronounced each week, with alfalfa height decreasing by about an inch for every ~170 ft rise in elevation. So get out there and check!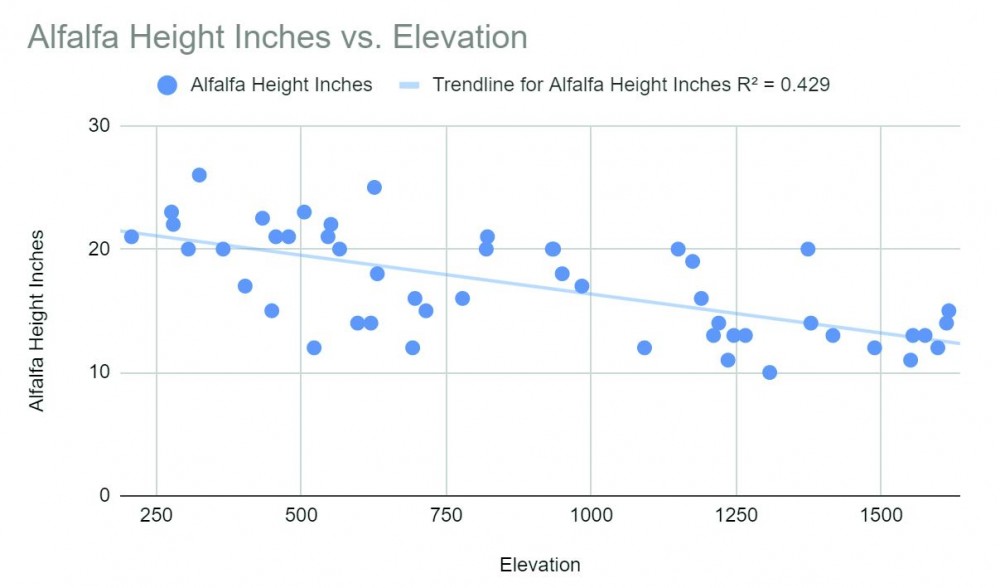 Upcoming Events
No upcoming events at this time.
Announcements
Sign Up for Our Weekly E-Newsletter
We send out a bi-weekly e-newsletter that has announcements, upcoming programs, and opportunities for you! Registration is quick, easy, and free.
Click here to sign up today!
CCE Livestock Program Work Team
See the
Livestock Program Work Team website
for news, upcoming programs, and NYS Slaughterhouse Map.
Entomologists Seek Safer Pest Management Tech for NYS
Specialty crop entomologists from Cornell AgriTech and the New York State Integrated Pest Management Program (NYSIPM) will use a three-year, $450,000 grant from the New York State Department of Agriculture and Markets to evaluate alternatives for controlling insect pests that threaten the state's $1.4 billion specialty crop industry.
The scientists will explore alternatives to neonicotinoids and chlorpyrifos, which have been shown to harm the environment - as well as pollinators and other beneficial insects - by mounting evidence, including a 2020 analysis of neonicotinoid use in New York by Cornell's Dyce Lab for Honeybee Studies.