1st Cutting Forage Quality Update ~ May 8, 2023
Erik Smith, Area Field Crop Specialist
Central New York Dairy and Field Crops
May 9, 2023
Check your fields because peak quality may be now!
Alfalfa height is a reliable indicator of NDF values in the field, so we use alfalfa height to predict Neutral Detergent Fiber (NDF) for
alfalfa, mixed alfalfa/grass, and pure grass stands. When using alfalfa and grass height as an indicator of NDF content, in general:
Begin cutting 100% grass stands when nearby alfalfa is 14" tall to achieve the desired 50% NDF.
Begin cutting 50/50 alfalfa/grass stands when nearby alfalfa is 22" tall for the desired 44% NDF.
Begin cutting 100% alfalfa stands when alfalfa is 28" tall for the desired 40% NDF.
To achieve the desired NDF it is necessary to begin cutting at NDF values slightly lower than the desired value assuming some harvest and storage losses (which the above alfalfa height values reflect). For example 28 inch tall alfalfa is closer to 38% NDF but you will need to start then to end up at 40% NDF.
Predicted days to cut are based on daily NDF increases for grasses (1%), 50/50 mixed stands of (0.8%), and alfalfa (0.5%). Typically, NDF increases about 0.8 to 1.2/day for grasses and 0.4 to 0.7/day in alfalfa, expecting the lower end of that range in cooler weather and the higher end in warm. See the fact sheet down below for more details: Predicting Spring Fiber Content of Forages.
Always check your fields to verify your heights and conditions!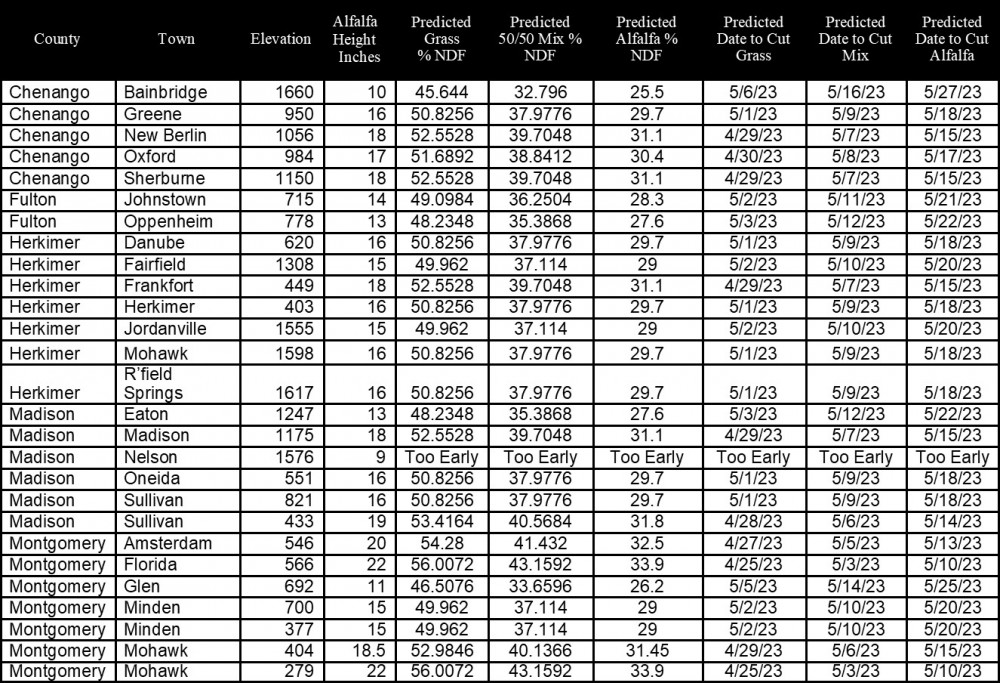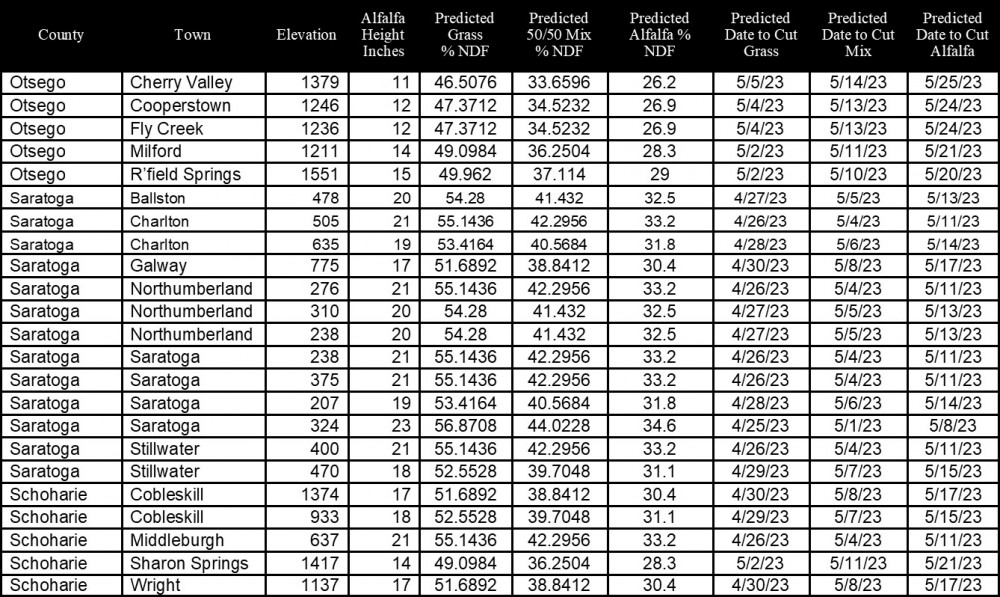 Alfalfa measured by Dave Balbian, Ashley McFarland, Erik Smith, and Nicole Tommell.
Even with the cool weather, you may be ready to harvest pure grass hay soon if you're cutting for top quality. So keep an eye on your grass development and harvest before it heads out (along with its feed value):
Predicting Spring Fiber Content of Forages (pdf; 95KB)
Upcoming Events
Perspectives on the Opportunities and Impacts of Solar Installation in Agricultural Areas
September 28, 2023
October 12, 2023
October 26, 2023
November 9, 2023
November 22, 2023

This five part series will address the topic from multiple perspectives and help to identify the opportunities and challenges as well as currently know best practices for integrating the need for renewable energy with other economic and social factors.
Veterinarian Talk: Goat Husbandry and Health
October 15, 2023
Cortland, NY
Free, but pre-registration required due to limited seating.
Agritourism Monthly Workshops
September 18, 2023
October 16, 2023
November 20, 2023
December 18, 2023

Are you thinking of starting an agritourism business or are you currently operating one? Join our monthly lunch-hour, workshop virtual series and learn how to grow your agritourism business!
Announcements
Sign Up for Our Weekly E-Newsletter
We send out a bi-weekly e-newsletter that has announcements, upcoming programs, and opportunities for you! Registration is quick, easy, and free.
Click here to sign up today!
Spotted Lanternfly
Lycorma delicatula
, or Spotted Lanternfly (SLF), is an invasive plant hopper from Asia and is an agricultural pest. In the United States, it was first found in Pennsylvania in 2014. Spotted Lanternfly has been found in New York State on Staten Island, all New York City boroughs, Long Island, Port Jervis, Sloatsburg, Orangeburg, Ithaca, Binghamton, Middletown, Newburgh, Highland, and the Buffalo area. SLF threatens the agriculture and forestry industries, and is also a nuisance pest. The nymphs and adults feed on over 70 different plants, but is especially detrimental to grapes, a black walnut, hops, maple trees and apples. New York State Ag and Markets supported CCE efforts to help bring awareness to communities and we developed this Public Service Announcement and would appreciate you sharing it with your member lists.



CCE Livestock Program Work Team
See the
Livestock Program Work Team website
for news, upcoming programs, and NYS Slaughterhouse Map.