Field Crop Update July 9, 2021
Erik Smith, Area Field Crop Specialist
Central New York Dairy and Field Crops
July 9, 2021
1. Field Observations
Most corn in the area is V7-V9, soybeans are nearing the reproductive stage (flowering may already be happening in early plantings, as it is in Oneida Co.) and canopies may be closing soon - which is great news for weed suppression, but increases the risk of white mold in soybean (Sclerotinia sclerotiorum), especially if you've experienced it in that given field at any point in the past (it can persist in the soil for at least 10 years). Something I will be trying this year is the Sporecaster app (White Mold in Soybeans Sporecaster Forecasts and Scouting - July 6, 2021 (psu.edu)). Input your field location and row spacing, and the app will estimate the current risk for white mold in that field. In 2020, they found that a 50% action threshold (as estimated by the app) was the most accurate in predicting white mold in PA fields. If you would like some assistance using the app or if you are already using it, please let me know - I'm interested to see how well this works in our area. For more information on when and what to spray for white mold, here is that info from NYSIPM: White Mold of Soybean: What to expect with variable growth stages - What's Cropping Up? Blog (cornell.edu)and here is a product table for other diseases of soybean in NY: Diseases of Soybeans | Field Crops (cornell.edu)
Speaking of weed suppression, spot-treating troublesome hayfield weeds, like milkweed, needs to happen now before plants set seed. Weeds like this already take multiple seasons to rein in, so you don't want to be playing catch-up forever.

Japanese beetle populations are increasing and "ensuring the next generation" everywhere you look. But they are not known to cause significant damage to field crops, especially not in NY.
Soybean aphid is on the rise in the western and northern parts of NY so this is something to monitor in the coming weeks. I've seen a few potato leafhopper larvae on soybean plants, but they are not considered an economic threat past V2 (the 2nd trifoliate leaf stage), which just about all of us should be past. Even then, I am unaware of an established threshold for NY.
2. Growing Degree Days as of June 2nd (See: Climate Smart Farming Growing Degree Day Calculator)
Growing degree days (GDD) are calculated by taking the average daily temperature and subtracting the base temperature for development of a given organism ((High + Low)/2 - base temp = GDD). For corn silage, we are using base 50/86, as corn development starts at 50 degrees F and ceases above 86.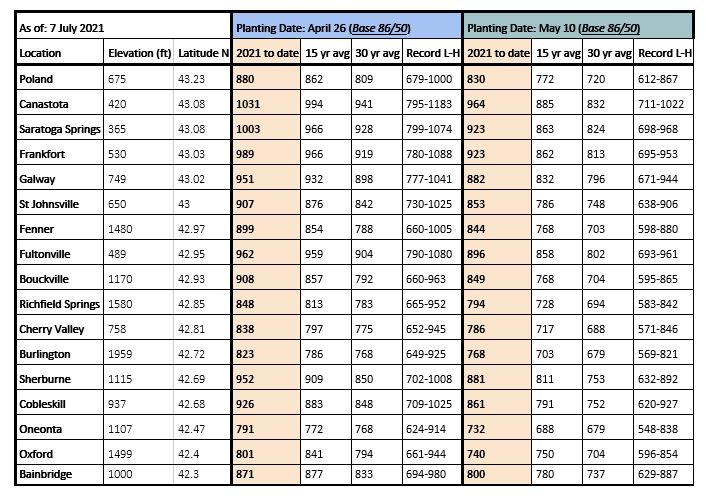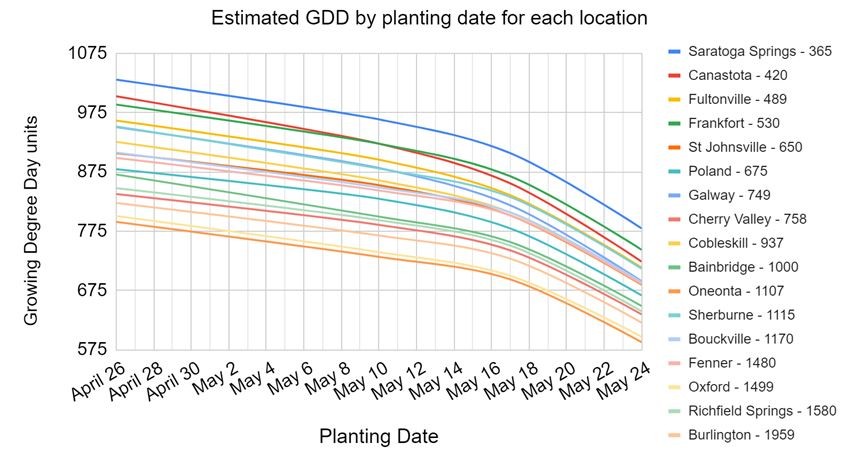 Not everyone planted their corn on one of the planting dates or in one of the locations I have listed, so this chart shows the estimated GDD for each location on each potential planting date in between (based on the actual GDD on those four dates). The locations are ordered top-to-bottom from lowest elevation to highest (the number after the location name is the elevation in feet above sea level). The GDD at locations on this list with nearly identical elevations were generally no more than 50 GDD apart, and usually within 25 GDD. So if your farm is near one of the locations on this list but there's a location here that more closely matches your elevation, try that instead. You can find GDDs for your own specific location and planting date using the Climate Smart Farming CSF Growing Degree Day Calculator, but for those who might have more difficulty using that tool, maybe this chart can help.

Drought monitor is still nearly unchanged, except for an expansion of the moderate drought to more of the North Country on the Quebec border: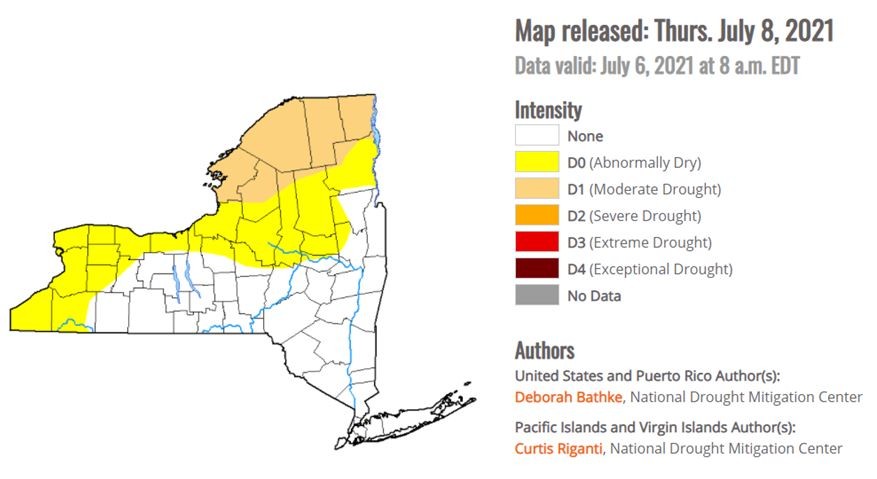 3. Pest Monitoring
Potato leafhoppers have been just under threshold in my monitored fields. Third cutting alfalfa might exceed thresholds in the coming weeks, so stay tuned to next week's report.
True armyworm traps yielded two moths in our Herkimer trap, but this is the second generation and will not threaten field corn. This is almost certainly from the second generation, which could cause damage in sorghum forage and potentially hayfields if numbers are especially high. We'll keep monitoring them for another few weeks.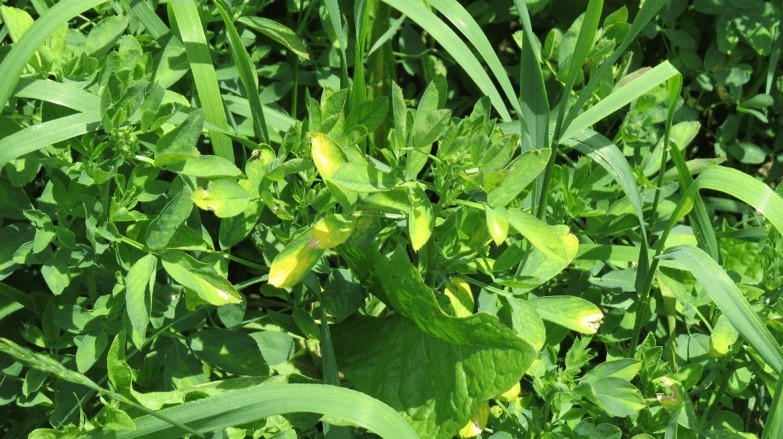 The first week of western bean cutworm trapping yielded one moth in our Montgomery Co trap, but there none in week two. High trap numbers suggest that there may be significant eggs laid in pre-tassel corn, and larvae may cause damage to ears. We'll keep an eye on this pest through August.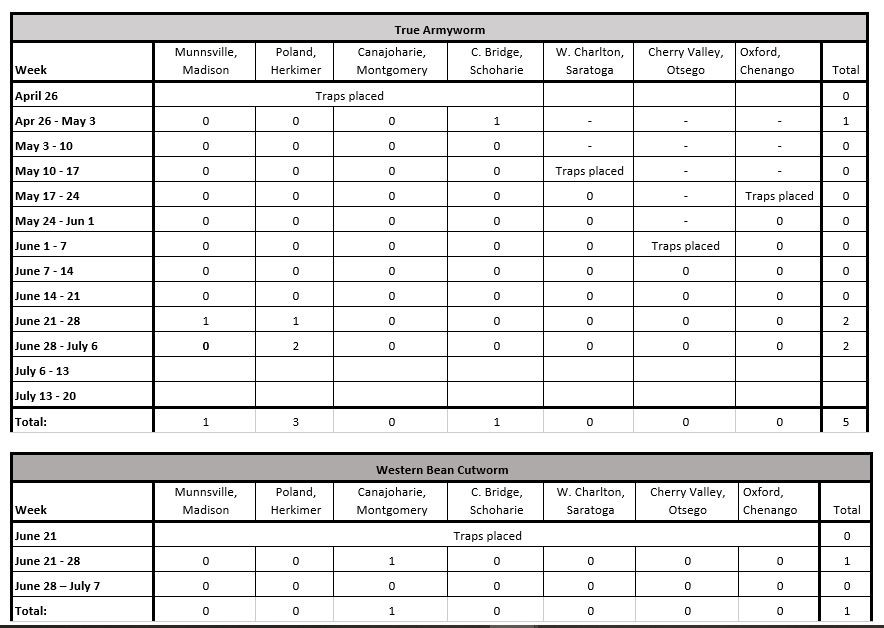 Field Crop Update July 9, 2021 (pdf; 675KB)
Upcoming Events
Beef Quality Assurance
July 7, 2022
July 13, 2022
August 8 - August 9, 2022August 11, 2022
October 5 - October 6, 2022
Online Classroom Trainings and Chute-side Trainings. Pick one of each.
Topics covered include cattle nutrition, handling and vaccine protocols.
Announcements
Sign Up for Our Weekly E-Newsletter
We send out a bi-weekly e-newsletter that has announcements, upcoming programs, and opportunities for you! Registration is quick, easy, and free.
Click here to sign up today!
CCE Livestock Program Work Team
See the
Livestock Program Work Team website
for news, upcoming programs, and NYS Slaughterhouse Map.
Farm Service Agency is Hiring!
Internship/Temporary Positions through 9/30 available. Looking to fill 5 vacancies in Eastern New York.