Pests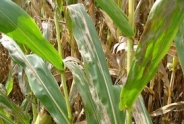 Weeds, insects and disease reduce crop yield and quality.
Past Relevant Events
Field Crop Pest Management
January 21 - January 31, 2014

Soil Health Meeting

June 11, 2014
1pm - 3pm
Oneonta, NY
CNY Small Grain Workshop Presentations Part 1

February 3, 2015
10:00 am - 3:00 pm
West Winfield, NY
Most Recent Pests Content
Glyphosate Yellow Flash
Kevin Ganoe, Area Field Crop Specialist
Central New York Dairy and Field Crops
Last Modified: July 21, 2014

In recent weeks soybean growers have seen new soybean leaves turn yellow after an application of glyphosate. There are many thought on why this chlorotic condition occurs and the presentation available for download explored those in depth.

Potato Leafhopper Resistant Alfalfa Varieties Show Their Stuff
Last Modified: May 9, 2014

Keith Waldron, NYS Livestock and Field Crops IPM Coordinator wrote this article for the Weekly Field Crops Pest Report 2012 July 12, 2012, Volume 11 Number 13. See the attached PDF.

Upcoming Events
Beef Quality Assurance Training
July 30, 2018
6:00 pm
Oneonta, NY
Beef Quality Assurance "BQA" TrainingWhen:
Monday, July 30th, at 6:00pm
Where:
Maidens Farm - 477 County Road 11, Oneonta NY 13820
Cost:
$15 (beverages, pizza, dessert provided)
Registration:
Deadline July 27, 2018
Beef Producer Meeting
July 31, 2018
6:30 pm
Hubbardsville, NY
The CNY Dairy, Livestock and Field Crops Team is hosting a meeting for local beef producers.
Announcements
Welcome Nicole Tommell~Farm Business Management Specialist
We welcome Nicole Tommell as the new agricultural business management specialist on the Central New York Dairy, Livestock and Field Crops team. Nicole will provide leadership for planning and developing programing that emphasizes business management and profitability. Thanks to the CCE associations in the region and Cornell for expanding our team's capacity to meet the educational needs of the ag industry in Chenango, Fulton, Herkimer, Madison, Montgomery, Otsego, Saratoga and Schoharie Counties.
Nicole received her Bachelor of Technology degree from SUNY Cobleskill in Agricultural Business. She also holds a Masters in Agricultural Education from North Carolina State University. Before joining the team, Nicole was a Visiting Instructor at SUNY Cobleskill teaching courses ranging from agricultural business to animal science. She has also managed a diversified cattle operation she owns with her husband.
Her primary goal will be to provide business analysis, planning and development support for agricultural businesses in the region. Please welcome Nicole to the team.
You can reach Nicole at:
Phone: 315-867-6001
E-mail: nt375@cornell.edu
Central New York Dairy, Livestock & Field Crops - Cornell Cooperative Extension
Your Trusted Source for Research-Based Knowledge