Pests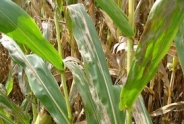 Weeds, insects and disease reduce crop yield and quality.
Past Relevant Events
Field Crop Pest Management
January 21 - January 31, 2014

Soil Health Meeting

June 11, 2014
1pm - 3pm
Oneonta, NY
CNY Small Grain Workshop Presentations Part 1

February 3, 2015
10:00 am - 3:00 pm
West Winfield, NY
Most Recent Pests Content
Glyphosate Yellow Flash
Kevin Ganoe, Area Field Crop Specialist
Central New York Dairy and Field Crops
Last Modified: July 21, 2014

In recent weeks soybean growers have seen new soybean leaves turn yellow after an application of glyphosate. There are many thought on why this chlorotic condition occurs and the presentation available for download explored those in depth.

Potato Leafhopper Resistant Alfalfa Varieties Show Their Stuff
Last Modified: May 9, 2014

Keith Waldron, NYS Livestock and Field Crops IPM Coordinator wrote this article for the Weekly Field Crops Pest Report 2012 July 12, 2012, Volume 11 Number 13. See the attached PDF.

Upcoming Events
Producing a Consistent Product
April 14, 2018
9 am - noon
Morrisville, NY
For Livestock Producers: Beef Cattle, Hogs, Sheep & Goats

Announcements
2017 Corn Silage Trial Information
Many of you have been looking for the 2017 corn silage trial information and preliminary results have been released. The predicted milk yields with the Cornell Net Carbohydrate and Protein System (CNCPS) model will be completed in the coming weeks but wanted to supply you with this preliminary report now.

One reporting difference from last year is that the uNDF 240 is listed as a percent of NDF not of dry matter so the number is larger but the relationship the same: a lower uNDF 240 value indicates better performance.

Central New York Dairy, Livestock & Field Crops - Cornell Cooperative Extension
Your Trusted Source for Research-Based Knowledge