Pests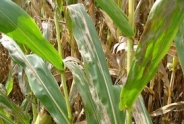 Weeds, insects and disease reduce crop yield and quality.
Past Relevant Events
Field Crop Pest Management
January 21 - January 31, 2014

Soil Health Meeting

June 11, 2014
1pm - 3pm
Oneonta, NY
CNY Small Grain Workshop Presentations Part 1

February 3, 2015
10:00 am - 3:00 pm
West Winfield, NY
Most Recent Pests Content
Glyphosate Yellow Flash
Kevin Ganoe, Area Field Crop Specialist
Central New York Dairy and Field Crops
Last Modified: July 21, 2014

In recent weeks soybean growers have seen new soybean leaves turn yellow after an application of glyphosate. There are many thought on why this chlorotic condition occurs and the presentation available for download explored those in depth.

Potato Leafhopper Resistant Alfalfa Varieties Show Their Stuff
Last Modified: May 9, 2014

Keith Waldron, NYS Livestock and Field Crops IPM Coordinator wrote this article for the Weekly Field Crops Pest Report 2012 July 12, 2012, Volume 11 Number 13. See the attached PDF.

Upcoming Events
Beef Producer Meeting
July 20, 2017
6:30 pm
Little Falls, NY
The CNY Dairy, Livestock and Field Crops Team is hosting a meeting for local beef producers.


Academy for Dairy Executives
December 12 - February 21, 2018

The Academy for Dairy Executives Program (Academy) is an educational opportunity for progressive dairy executives.


Announcements
2017 First Cutting Forage Quality Project
The CNY Dairy, Livestock and Field Crops Team has begun monitoring hay fields for our First Cutting Forage Quality Project. If you aren't familiar there is a very good correlation between alfalfa height and the level of Neutral Detergent Fiber in not only alfalfa but also grasses.

The team monitors fields throughout our region in May to give forage producers some idea of the optimal time to harvest that important 1st cutting. When to start varies as much as 2 weeks in our region depending where you are, elevation and soil type. Check out the Forage Quality section of our website for more information.



Central New York Dairy, Livestock & Field Crops - Cornell Cooperative Extension
Your Trusted Source for Research-Based Knowledge