Pests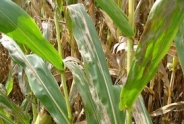 Weeds, insects and disease reduce crop yield and quality.
Relevant Event
Field Crop Pest Management Meeting ~ Madison County

March 26, 2019
1-3 pm
Morrisville, NY
Most Recent Pests Content
Glyphosate Yellow Flash
Kevin Ganoe, Area Field Crop Specialist
Central New York Dairy and Field Crops
Last Modified: July 21, 2014

In recent weeks soybean growers have seen new soybean leaves turn yellow after an application of glyphosate. There are many thought on why this chlorotic condition occurs and the presentation available for download explored those in depth.

Potato Leafhopper Resistant Alfalfa Varieties Show Their Stuff
Last Modified: May 9, 2014

Keith Waldron, NYS Livestock and Field Crops IPM Coordinator wrote this article for the Weekly Field Crops Pest Report 2012 July 12, 2012, Volume 11 Number 13. See the attached PDF.

Upcoming Events
Field Crop Pest Management Meeting ~ Madison County

March 26, 2019
1-3 pm
Morrisville, NY
Come and discuss pest management and growing season issues that affected your crops in 2018 and look ahead to changes you might make for 2019.
Livestock Techniques Hands-on Workshop ~ Norwich location
March 26, 2019
6-8 pm
Norwich, NY
Three locations to choose from.
Microenterprise Training Classes
March 26 - April 16, 2019
7pm-9pm
Fonda, NY
The Montgomery County Business Development Center (MCBDC) and Montgomery County Soil and Water Department are administering a Montgomery County Agriculture Microenterprise Program (MCAMP) that will provide grants to eligible agricultural entrepreneurs and business owners that want to establish or expand an existing business located within Montgomery County. Agricultural microenterprises can receive grants of up to $25,000 to assist with startup or expansion costs.
Announcements
No announcements at this time.