Field Crop Update, August 20, 2021
Erik Smith, Area Field Crop Specialist
Central New York Dairy and Field Crops
August 20, 2021
1. Field Observations
Rain. Lots of it. And even now that it's stopped, it'll still be a few days before many of us can get into the field. We might get a brief respite Tue-Wed of next week, but thankfully most were able to take hay cuttings over the last two weeks. And now that spring grains are coming off the field, it's the beginning of cover crop season! I could end there, but we do have another important development to discuss. From Peter Landre, Assistant Director for CCE Regional Teams (370 Roberts Hall, Ithaca, NY, 315-694-0969):
Lorsban (chlorpyrifos) Ban in NY
The New York State DEC has adopted changes to the state pesticide registration regulations prohibiting chlorpyrifos in New York State effective July 31, 2021. Notice of the regulation adoption was published in the State Register July 21, 2021. Additional supporting documents for the regulation change can be found at the DEC's website.
This ban went into effect on July 31. The NYS DEC also cancelled the registrations of most chlorpyrifos products on December 31, 2020 and then cancelled the remaining products on July 31, 2021. As for any remaining grower inventory after July 31, the NYS DEC issued an enforcement discretion that will allow possession, transport, storage or handling of open or closed containers of these products for purposes of shipment out of state or for proper disposal and will allow preparation for disposal of these products until February 1, 2022 or until the Enforcement Discretion for Distribution of Unregistered Products Containing Chlorpyrifos is rescinded by the Department.
More info can be found on the DEC website here.
The NYS DEC also notes that, in addition to pursuing re-distribution of these products out of state or proper disposal, growers may also explore participation in a CleanSweepNY collection event. A collection event is planned for October 12 through 14 in DEC's Region 4. Check here, email info@cleansweepny.org or call 518-225-8146 for details. DEC is also pursuing potential collections in other locations.
This includes two locations in our CNYDLFC region, and one more to the east of us. You must pre-register (call 518-225-8146 or email info@cleansweepny.org):
Hudson, NY: Tuesday, October 12, 2021
Fultonville, NY: Wednesday, October 13, 2021
Oneonta, NY: Thursday, October 14, 2021
Click to see the latest Oneida County Scouting Report, Northwest NY Crop Alert, Capital Area Ag Report, and New York State IPM Weekly Field Crops Pest Report
2. Growing Degree Days (GDD) for planting date and silking date (Climate Smart Farming Growing Degree Day Calculator)
GDD are calculated by taking the average daily temperature and subtracting the base temperature for development of a given organism ((High + Low)/2 - base temp = GDD). For corn silage, we are using base 50/86, as corn development starts at 50F and ceases above 86F. Silage corn needs 750-800 GDD after silking to reach a whole plant DM of 32%. Under typical late season dry down conditions we can expect the crop to reach 35% DM four to seven days later: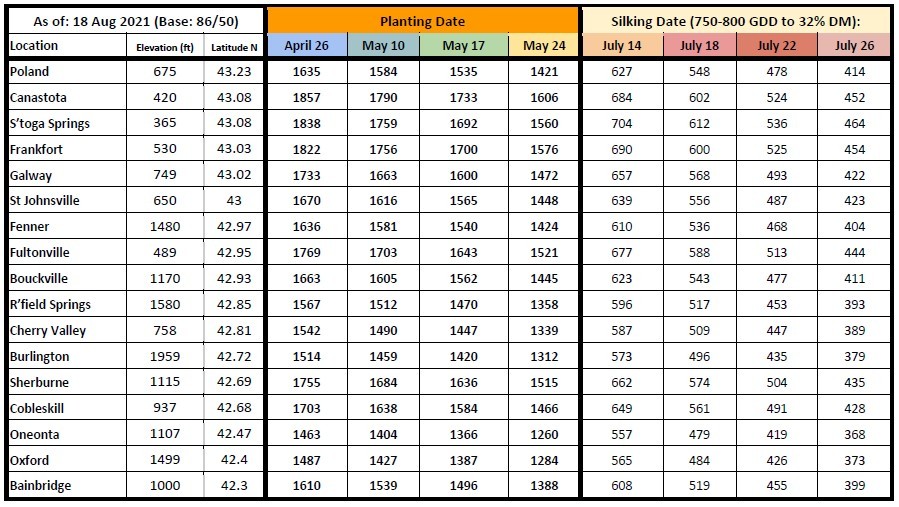 shows the estimated GDD for each location on each potential planting date in between (based on the actual GDD on those four dates). The locations are ordered top-to-bottom from lowest elevation to highest (the number after the location name is the elevation in feet above sea level). So if your farm is near one of the locations on this list but there's a location here that more closely matches your elevation, try that instead. You can find GDDs for your own specific location and planting date using the Climate Smart Farming CSF Growing Degree Day Calculator, but for those who might have more difficulty using that tool, maybe this chart can help.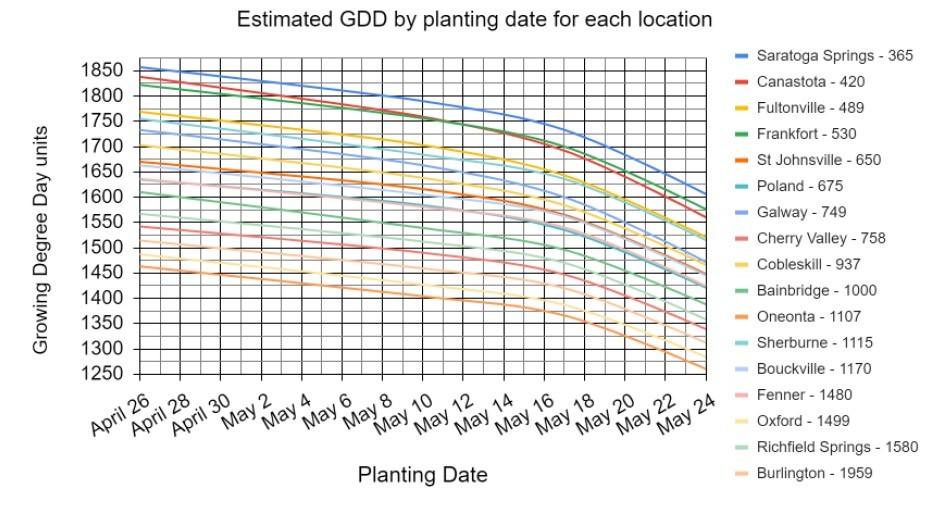 As we get closer to silage harvest, remember that silage corn needs 750-800 GDD after silking to reach a whole plant DM of 32% (depending on hybrid maturity). Under typical late season dry down conditions we can expect the crop to reach 35% DM four to seven days later. When using this chart, remember that actual GDD were calculated for July 14, 18, 22, and 26 silking dates. Dates in-between those four dates are estimates. As always, remember that GDD estimates are good for getting you in the ballpark, but are no substitute for actual conditions in the field.
Folks in northern Madison County are getting closer, though I suspect most in the "warmer" areas of our region will be chopping hybrids that won't reach 32% until we're at the high end of the 750-800 range. But be ready…: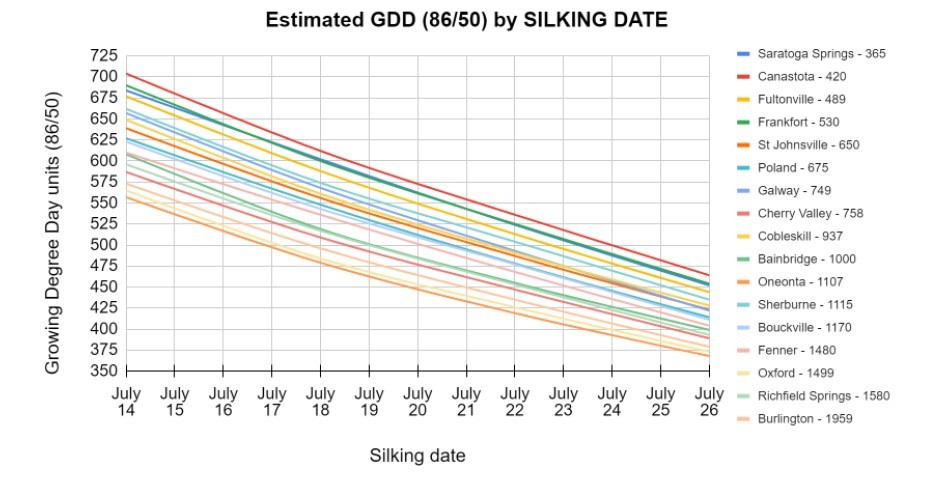 3. Pest Monitoring
I only managed to sweep for potato leafhopper on Monday, and counts were low, as they have been for everyone around the state at the moment. We'll see if they rebound next week.
Video: Potato Leafhopper Scouting and IPM Thresholds in Alfalfa
As I mentioned last week, we are beginning to see the fungal effects of the wet weather in corn and soy foliage, and some soy plant death in areas around the state. Rotate out of these fields next year if at all possible, plant resistant varieties, and if those are not possible, protect your beans at the flowering stages.
This looks like the last gasp of this year's western bean cutworm (WBC) (see table). Alternatively, fall armyworm moths have just arrived. So be on the lookout if you're growing sweet corn in particular. Hopefully we don't experience the level of infestation they're seeing now in The South….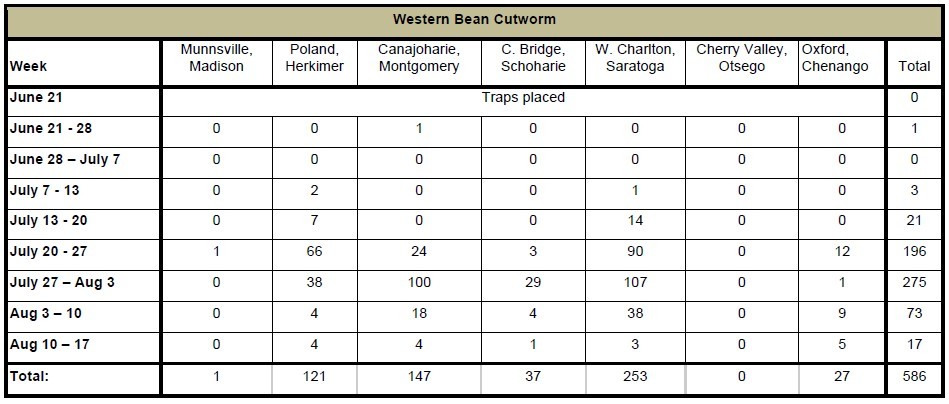 Field Crop Update, August 20, 2021 (pdf; 523KB)
Upcoming Events
Beef Quality Assurance
July 7, 2022
July 13, 2022
August 8 - August 9, 2022August 11, 2022
October 5 - October 6, 2022
Online Classroom Trainings and Chute-side Trainings. Pick one of each.
Topics covered include cattle nutrition, handling and vaccine protocols.
Announcements
Sign Up for Our Weekly E-Newsletter
We send out a bi-weekly e-newsletter that has announcements, upcoming programs, and opportunities for you! Registration is quick, easy, and free.
Click here to sign up today!
CCE Livestock Program Work Team
See the
Livestock Program Work Team website
for news, upcoming programs, and NYS Slaughterhouse Map.
Farm Service Agency is Hiring!
Internship/Temporary Positions through 9/30 available. Looking to fill 5 vacancies in Eastern New York.