Field Crop Update, September 2, 2021
Erik Smith, Area Field Crop Specialist
Central New York Dairy and Field Crops
September 2, 2021
1. Field Observations
Corn is maturing fast, though the fall-like weather over the last 36 hrs and into the next few days will slow things down a bit. So use this time to check your crops' conditions and see if you're ready for silage harvest. The latest GDD numbers are in for Aug 31st (see section 2), so keep in mind that yesterday we likely had a few more GDD but not much dry-down (especially if you were in Ida's path).
As part of a project I'm conducting with overseas colleagues, I began monitoring fall armyworm (FAW) activity in July using pheromone-baited traps (in the same fields as our other moth traps). FAW seldom cause issues for us in NY (Bt corn is resistant, and non-GM crops seldom see much damage), but in light of this year's outbreak across the country ('Unprecedented' outbreak of armyworms are destroying lawns across the US, often overnight (msn.com), the decision to monitor their local activity seems prescient now! This picture actually comes from a skeletonized 50-acre alfalfa field in Kinderhook, NY. A bit too close to home: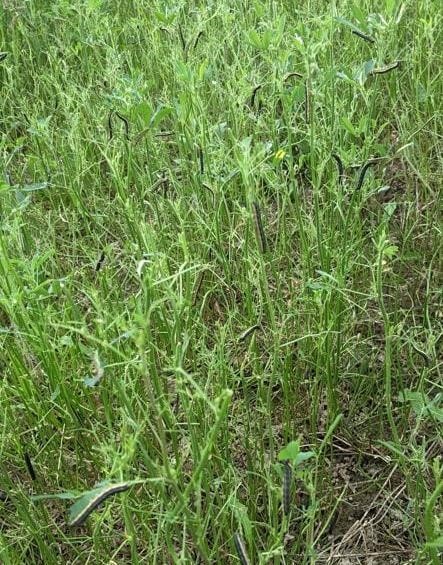 I saw a spike in adult FAW in my traps a few weeks ago (highest number in a given trap was 2 dozen, which is not terribly concerning), which has since dropped to near zero. After adults come larvae, and I have seen very few larvae in the alfalfa fields that I've been sweeping over the last few weeks, but there may be time left this summer for a second local generation. I will keep you apprised of this situation as we go along, but of course, let me know if you see or suspect an outbreak. They can be managed via early harvest or insecticide application, but action must be taken quickly. See the next page for identifying characteristics.
If early harvest is not an option, many classes of insecticides are capable of controlling FAW, including pyrethroids, diamides, spinosyns, and insect growth regulators. Some pyrethroids and spinosyns are OMRI-listed.
2. Growing Degree Days (GDD) for planting date and silking date (Climate Smart Farming Growing Degree Day Calculator)
For corn silage, we are using base 50/86, as corn development starts at 50F and ceases above 86F. Silage corn needs 750-800 GDD (depending on hybrid maturity) after silking to reach a whole plant DM of 32%. Remember that we can expect to accumulate 20-25 GDD per day, or even up to 30, so this is not a large window. Under typical late season dry down conditions we can expect the crop to reach 35% DM four to seven days later. Check your crop to see how close you may be to harvest: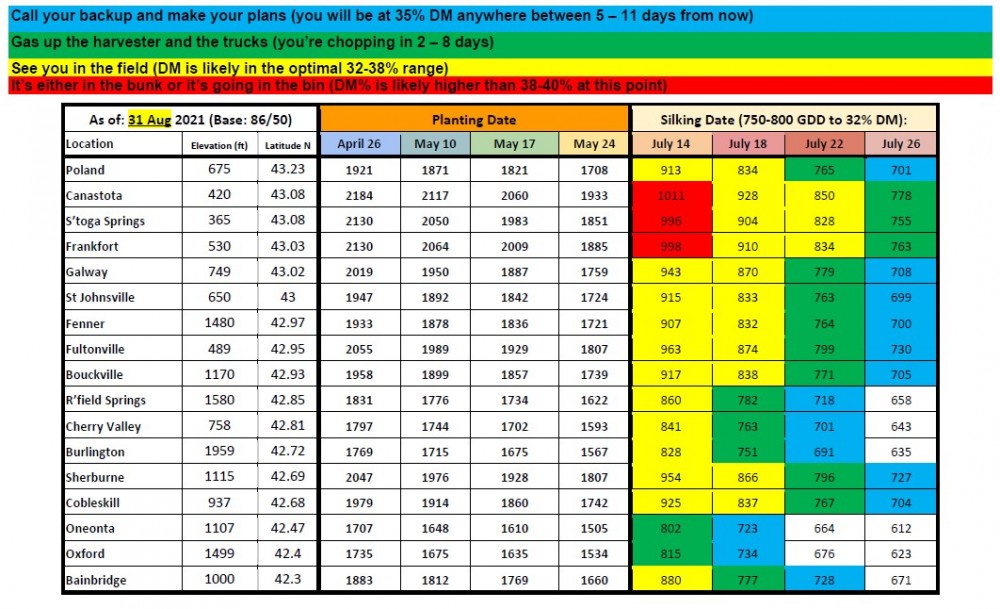 Not everyone planted their corn on one of the planting dates or in one of the locations I have listed, so this chart shows the estimated GDD for each location on each potential planting date in between (based on the actual GDD on those four dates). The locations are ordered top-to-bottom from lowest elevation to highest (the number after the location name is the elevation in feet above sea level). So if your farm is near one of the locations on this list but there's a location here that more closely matches your elevation, try that instead. You can find GDDs for your own specific location and planting date using the Climate Smart Farming CSF Growing Degree Day Calculator, but for those who might have more difficulty using that tool, maybe this chart can help.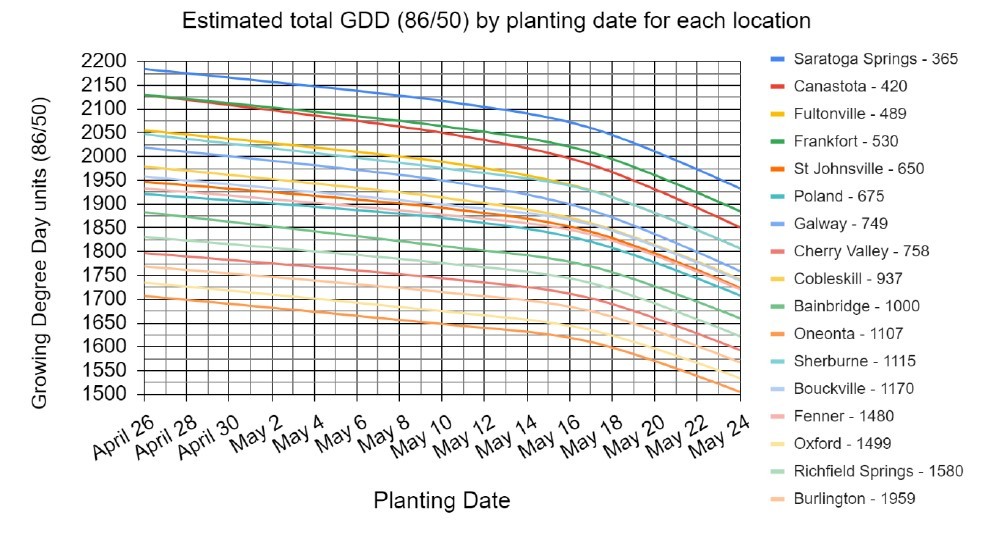 As we get closer to silage harvest, remember that silage corn needs 750-800 GDD after silking to reach a whole plant DM of 32% (depending on hybrid maturity). Under typical late season dry down conditions we can expect the crop to reach 35% DM four to seven days later. When using this chart, remember that actual GDD were calculated for July 14, 18, 22, and 26 silking dates. Dates in-between those four dates are estimates. As always, remember that GDD estimates are good for getting you in the ballpark, but are no substitute for actual conditions in the field.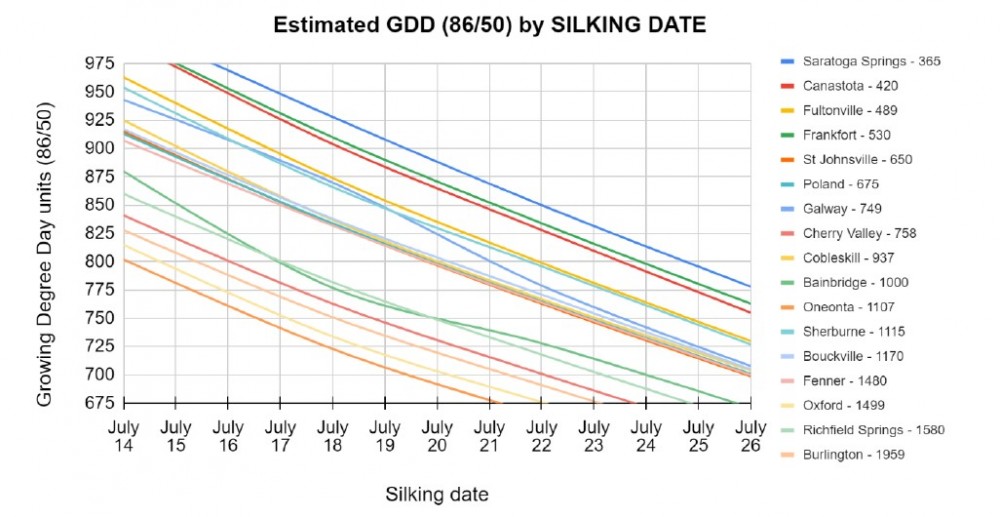 3. Pest Monitoring
Not much to report this week beyond the FAW information. The western bean cutworm traps were pulled last week, so we are down to monitoring FAW and some of the other as-of-yet undetected invasive soybean pests, and soybean cyst nematode (at harvest). I will be reaching out to some of you for my upcoming soybean cyst nematode soil-sampling program over the next few weeks.
Leafhoppers in alfalfa are still very low, while pea aphids have seen a recent surge. But so far nothing approaching threshold.
Video: Potato Leafhopper Scouting and IPM Thresholds in Alfalfa
I still have yet to see any soybean white mold, but I'm expecting to see quite a bit over the next month. I have seen some various other soybean fungi in patches, mostly associated with wet spots in fields, which of course are prevalent this year. Due to this, it will be especially important to rotate these fields into another crop next year.
Field Crop Update, September 2, 2021 (pdf; 1303KB)
Upcoming Events
Beef Quality Assurance
July 7, 2022
July 13, 2022
August 8 - August 9, 2022August 11, 2022
October 5 - October 6, 2022
Online Classroom Trainings and Chute-side Trainings. Pick one of each.
Topics covered include cattle nutrition, handling and vaccine protocols.
Announcements
Sign Up for Our Weekly E-Newsletter
We send out a bi-weekly e-newsletter that has announcements, upcoming programs, and opportunities for you! Registration is quick, easy, and free.
Click here to sign up today!
CCE Livestock Program Work Team
See the
Livestock Program Work Team website
for news, upcoming programs, and NYS Slaughterhouse Map.
Farm Service Agency is Hiring!
Internship/Temporary Positions through 9/30 available. Looking to fill 5 vacancies in Eastern New York.