Field Crop Update June 9, 2022
Erik Smith, Area Field Crop Specialist
Central New York Dairy and Field Crops
June 9, 2022
1. Field Observations
2. Growing Degree Days for Corn
3. Pest and Disease Monitoring
1. Field Observations
Just about all alfalfa has been taken for first cutting, and some of our grass hay acreage is being taken for dry cows/beef/horses/etc. Some alfalfa was hit pretty hard with alfalfa weevil, but hopefully we won't see a spillover of damage into second cutting like we did last year. Potato leafhoppers (PLH) are here, so we will begin monitoring those populations going forward. I'm particularly interested in seeing how early-season insecticide applications affect PLH and predator populations in later cuttings, so if you're willing to experiment with not spraying an alfalfa field that's reached threshold for PLH, please let me know!
Many of us planted corn in mid-late May, and those plantings are anywhere between V2-V5 depending on the area. I saw a fair amount of crow damage in some areas, so if you see a significant amount of this (see pic), look into a bird-repellant seed treatment like Avipel.
Black cutworm numbers are down from a few weeks ago (see section 3 for numbers), but corn is still susceptible to damage until V6 - so keep an eye on your fields!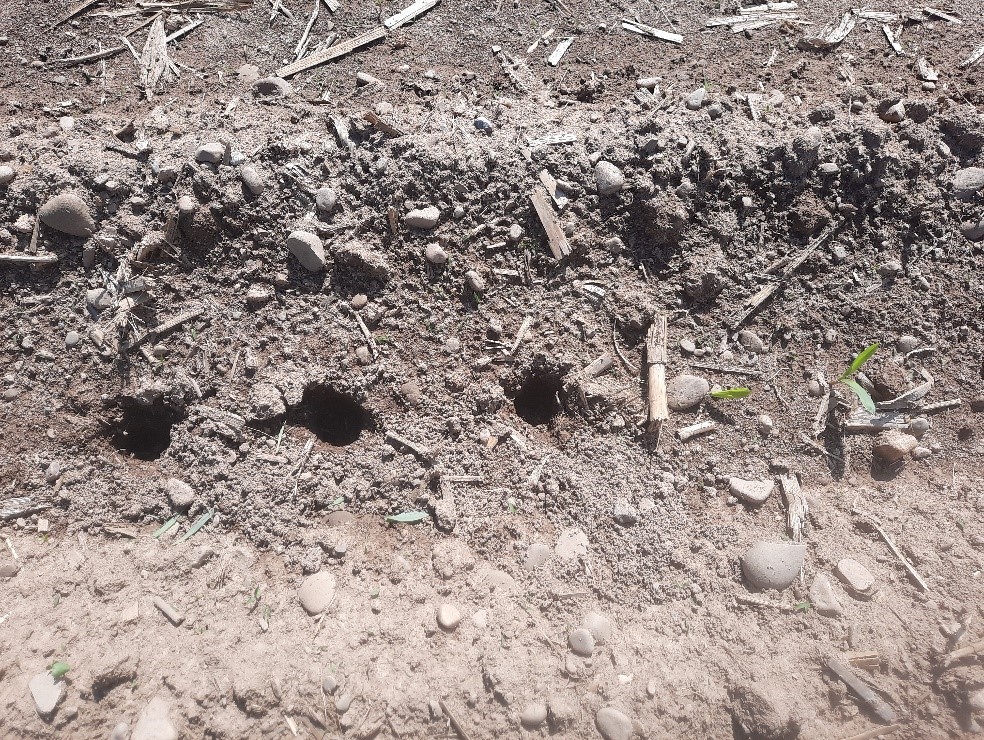 2. Growing Degree Days as of June 9th (See: Climate Smart Farming Growing Degree Day Calculator)
Growing degree days (GDD) are calculated by taking the average daily temperature and subtracting the base temperature for development of a given organism ((High + Low)/2 - base temp = GDD). For corn silage, we are using base 50/86, as corn development starts at 50 degrees F and ceases above 86. Check your location and planting date: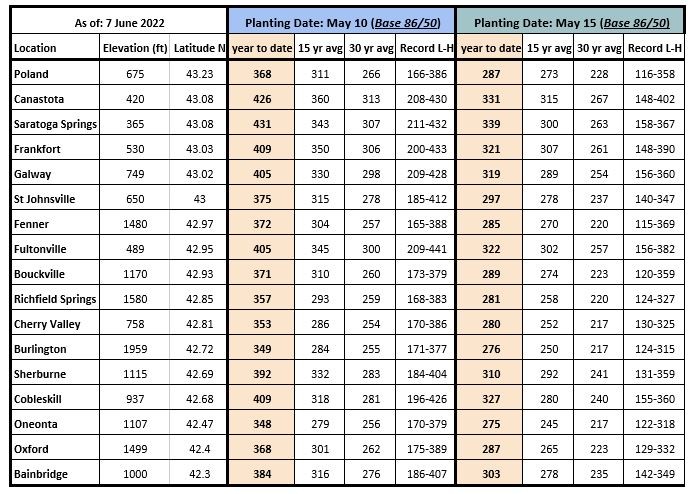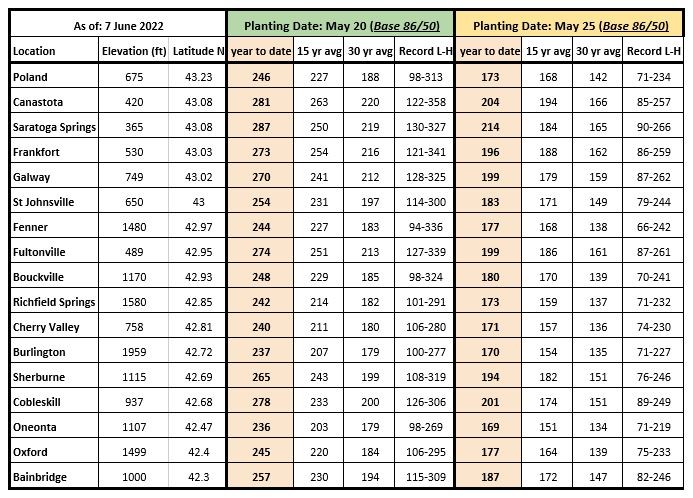 3. Pest and disease monitoring
This year we will again monitor for several pests of corn using pheromone-baited traps, including black cutworm (BCW), western bean cutworm (WBC), and true armyworm (TAW). We monitor BCW and TAW populations first, then transition to BCW and TAW through the middle part of the season, and we may eventually track fall armyworm (FAW) at some point this year as well.
This week, BCW numbers dropped, but TAW populations are showing the first signs of life. Once again, check your fields until v6 (around 12") for cutworm damage:

As winter grains such as barley and wheat begin to flower, now would be the time to decide whether to protect crops from fusarium head blight. According to the Fusarium Risk Tool (https://www.wheatscab.psu.edu/ ), the risk in our region is currently low, except for perhaps eastern Fulton County and east of Schoharie in the Gallupville/Berne area, where the risk is medium if your crops are currently flowering: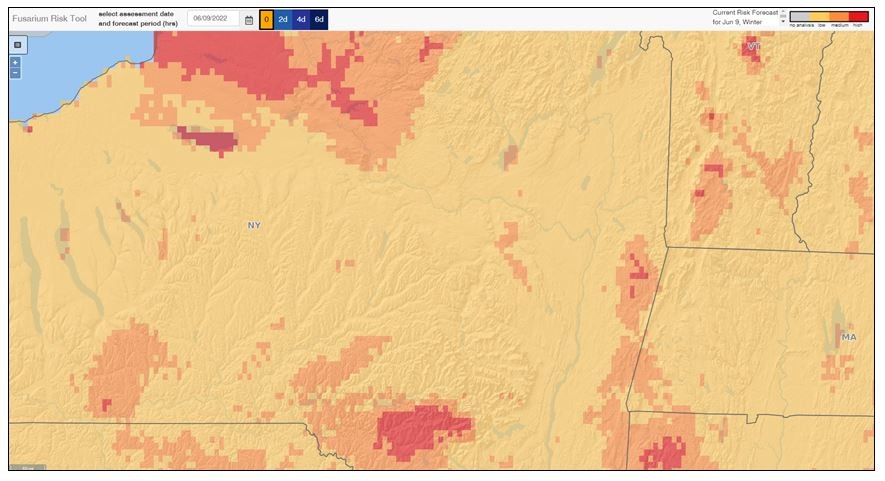 Field Crop Update June 9, 2022 (pdf; 759KB)
Upcoming Events
Minority and Women-Onwed Business Enterprise (MWBE) Certification 101
December 13, 2023
Agritourism Monthly Workshops
September 18, 2023
October 16, 2023
November 20, 2023
December 18, 2023

Are you thinking of starting an agritourism business or are you currently operating one? Join our monthly lunch-hour, workshop virtual series and learn how to grow your agritourism business!
2024 Agricultural Marketing Webinar Series
January 8, 2024
January 22, 2024
January 29, 2024
February 12, 2024
February 19, 2024
March 11, 2024
March 25, 2024

Announcements
Sign Up for Our Weekly E-Newsletter
We send out a bi-weekly e-newsletter that has announcements, upcoming programs, and opportunities for you! Registration is quick, easy, and free.
Click here to sign up today!
Spotted Lanternfly
Lycorma delicatula
, or Spotted Lanternfly (SLF), is an invasive plant hopper from Asia and is an agricultural pest. In the United States, it was first found in Pennsylvania in 2014. Spotted Lanternfly has been found in New York State on Staten Island, all New York City boroughs, Long Island, Port Jervis, Sloatsburg, Orangeburg, Ithaca, Binghamton, Middletown, Newburgh, Highland, and the Buffalo area. SLF threatens the agriculture and forestry industries, and is also a nuisance pest. The nymphs and adults feed on over 70 different plants, but is especially detrimental to grapes, a black walnut, hops, maple trees and apples. New York State Ag and Markets supported CCE efforts to help bring awareness to communities and we developed this Public Service Announcement and would appreciate you sharing it with your member lists.



CCE Livestock Program Work Team
See the
Livestock Program Work Team website
for news, upcoming programs, and NYS Slaughterhouse Map.