Soil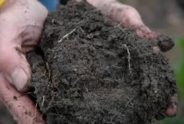 Soil provides a stable base for crop roots to grow and to supply nutrients and water. Good soil fertility and soil health are both key for profitable crop production.
SOIL CATEGORIES
Past Relevant Events
Soil Health Meeting

June 11, 2014
1pm - 3pm
Oneonta, NY
Tile Drainage School
November 12, 2014
10:00 am - 3:00 pm
Ballston Spa, NY
Soil Health Field Day
September 3, 2015
10:00am-3:00pm
Schoharie, NY
No Writings Offered at this Time
Upcoming Events
Academy for Dairy Executives
December 12 - February 21, 2018

The Academy for Dairy Executives Program (Academy) is an educational opportunity for progressive dairy executives.


Announcements
No announcements at this time.
Central New York Dairy, Livestock & Field Crops - Cornell Cooperative Extension
Your Trusted Source for Research-Based Knowledge