Soil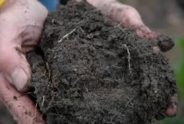 Soil provides a stable base for crop roots to grow and to supply nutrients and water. Good soil fertility and soil health are both key for profitable crop production.
SOIL CATEGORIES
Past Relevant Events
Soil Health Meeting

June 11, 2014
1pm - 3pm
Oneonta, NY
Tile Drainage School
November 12, 2014
10:00 am - 3:00 pm
Ballston Spa, NY
Soil Health Field Day
September 3, 2015
10:00am-3:00pm
Schoharie, NY
No Writings Offered at this Time
Upcoming Events
Grasstravaganza ~ Save the Date!
July 25 - July 27, 2019

Save the date for this event!
Announcements
No announcements at this time.