Field Crop Update, June 14, 2023
Erik Smith, Area Field Crop Specialist
Central New York Dairy and Field Crops
June 15, 2023
1. Field Observations
The Update is a day early again this week, so here is the drought map from JUNE 8th. Most of us received about an inch (or more) of rain this week and are expecting more over the next 10 days. That's some welcome news because our hayfields and pastures have a lot of catching up to do….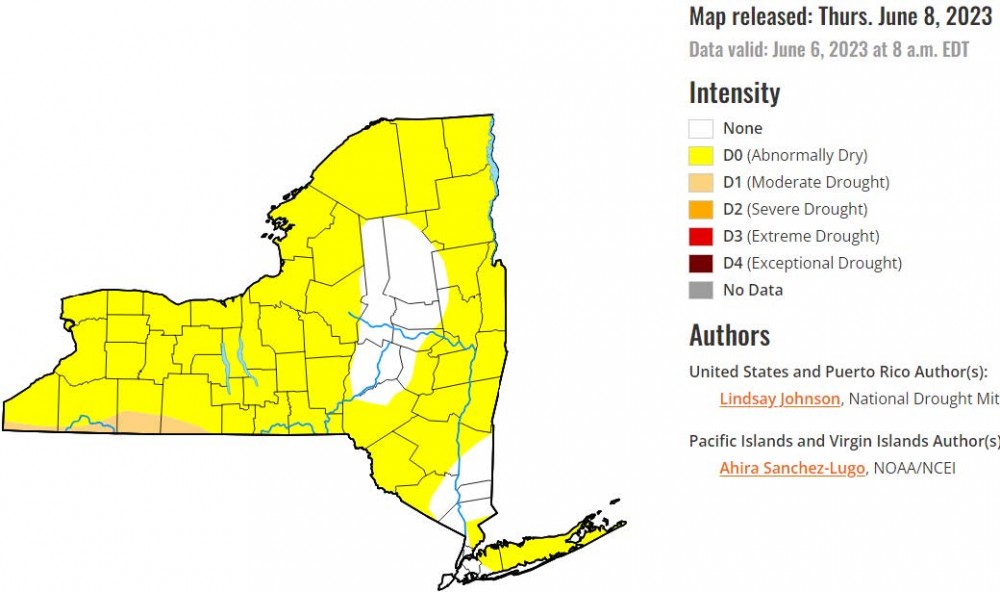 2. Growing Degree Days (See: Climate Smart Farming Growing Degree Day Calculator)
Growing degree days (GDD) are calculated by taking the average daily temperature and subtracting the base temperature for development of a given organism ((High + Low)/2 - base temp = GDD). For corn silage, we are using base 50/86, as corn development starts at 50 degrees F and ceases above 86. Check your location and planting date: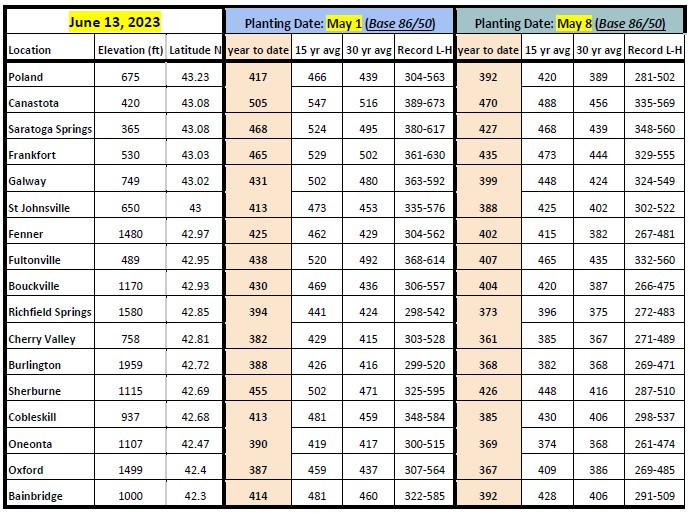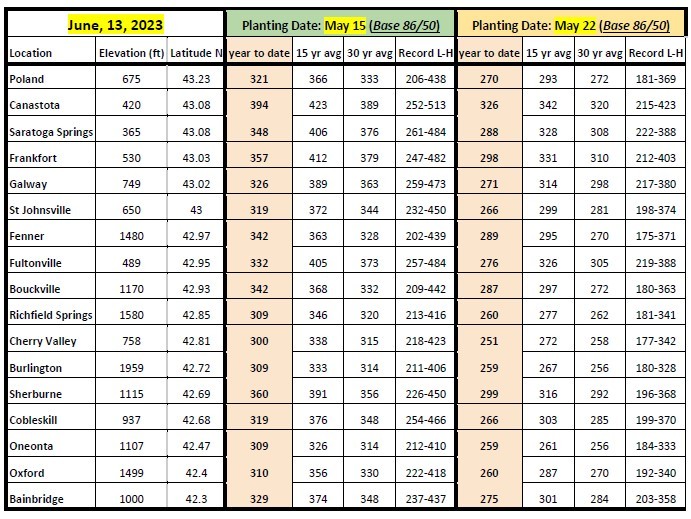 3. Pest and disease monitoring
Cereal Leaf Beetle
Be on the lookout if you've had problems in the past. Numbers are increasing each year, all over the state.
Potato Leafhopper and Alfalfa Weevil
We are seeing only very few leafhoppers (far, far below threshold), but we are still seeing alfalfa weevil damage and larvae in fields. However, the larvae are reaching their 4th and final stage before pupating in much of our region. They cause their worst damage in this stage, but spraying to control them at this advanced stage is likely not economical, especially if your stand is 16" or taller. But you may see a return if you're in a higher elevation area (cooler climate, which means the weevils will be in their earlier growth stages), your stand is at least 50% alfalfa, shorter than 16", and you're seeing damage on 50% of the alfalfa stems in your field.
Black Cutworm (BCW) and True Armyworm (TAW)
Numbers are still low this week, but I have seen some (very sparse) cutworm damage in our region. So continue to check your fields until V6 (~12") for cutworm damage.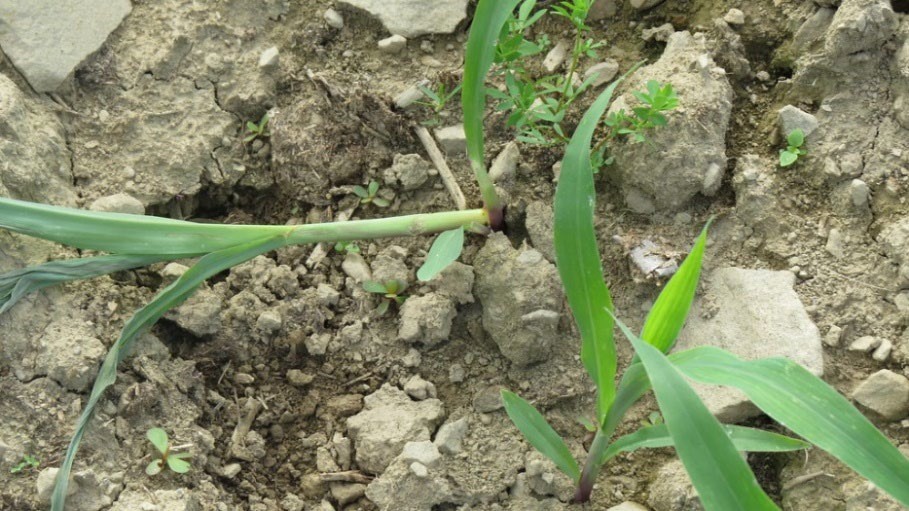 Fusarium head blight in winter grains
As winter grains begin and continue to flower, now would be the time to decide whether to protect crops from fusarium head blight. According to the Fusarium Risk Tool, the 6-day risk forecast in our region is increasing:
NY Jun 1, 2023 Gary Bergstrom, Extension Plant Pathologist, Cornell University
Winter wheat heads have emerged from the boot nearly everywhere and many are now flowering (yellow anthers visible) in fields across New York State. This is a critical time for making a fungicide spray decision. The fungicide products Caramba, Miravis Ace, Prosaro, Prosaro Plus, and Sphaerex are each labeled on wheat in New York and are effective in suppression of Fusarium head blight (FHB) and deoxynivalenol (DON) mycotoxin contamination. An application of these fungicide products should be based on FHB risk as well as the risks of powdery mildew, rusts, and fungal leaf blotches in the upper canopy based on scouting of individual fields. There is an application window of approximately 7 days starting at beginning of flowering in which reasonable FHB and DON suppression can be expected. Though the calculated risk of FHB infection is currently low due to dry conditions, the risk level may change in following days. Also consider microenvironments near lakes, in river valleys and next to woods that tend to have persistent dew, and other fields that have a history of mycotoxin contamination. Check the Fusarium Risk Assessment Tool and your local weather forecast frequently.
Upcoming Events
Minority and Women-Onwed Business Enterprise (MWBE) Certification 101
December 13, 2023
Agritourism Monthly Workshops
September 18, 2023
October 16, 2023
November 20, 2023
December 18, 2023

Are you thinking of starting an agritourism business or are you currently operating one? Join our monthly lunch-hour, workshop virtual series and learn how to grow your agritourism business!
2024 Agricultural Marketing Webinar Series
January 8, 2024
January 22, 2024
January 29, 2024
February 12, 2024
February 19, 2024
March 11, 2024
March 25, 2024

Announcements
Sign Up for Our Weekly E-Newsletter
We send out a bi-weekly e-newsletter that has announcements, upcoming programs, and opportunities for you! Registration is quick, easy, and free.
Click here to sign up today!
Spotted Lanternfly
Lycorma delicatula
, or Spotted Lanternfly (SLF), is an invasive plant hopper from Asia and is an agricultural pest. In the United States, it was first found in Pennsylvania in 2014. Spotted Lanternfly has been found in New York State on Staten Island, all New York City boroughs, Long Island, Port Jervis, Sloatsburg, Orangeburg, Ithaca, Binghamton, Middletown, Newburgh, Highland, and the Buffalo area. SLF threatens the agriculture and forestry industries, and is also a nuisance pest. The nymphs and adults feed on over 70 different plants, but is especially detrimental to grapes, a black walnut, hops, maple trees and apples. New York State Ag and Markets supported CCE efforts to help bring awareness to communities and we developed this Public Service Announcement and would appreciate you sharing it with your member lists.



CCE Livestock Program Work Team
See the
Livestock Program Work Team website
for news, upcoming programs, and NYS Slaughterhouse Map.