Field Crop Update, August 18, 2023
Erik Smith, Area Field Crop Specialist
Central New York Dairy and Field Crops
August 18, 2023
1. Field Observations
The diseases have started to show up in corn and soy crops. Specifically, northern corn leaf blight (2 top photos) and white mold (2 bottom photos). While rescue treatments are not economical at this point, infestation is important to note for future crops. Rotation always helps (at least some) but be mindful in the future of the weather conditions and condition of the crop at flowering to see whether a fungicide application is necessary in fields with a history of these diseases. Seek out resistant or tolerant varieties if possible!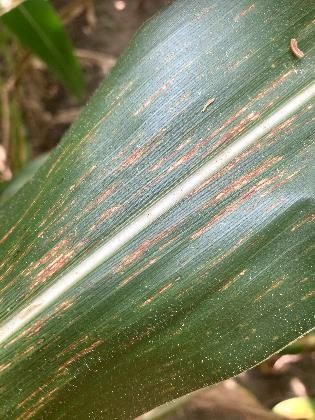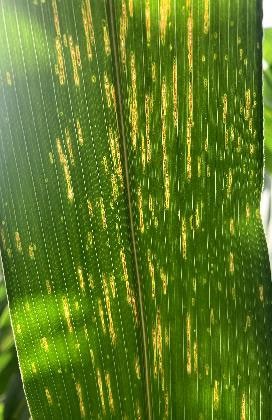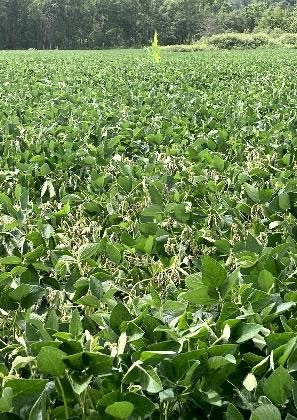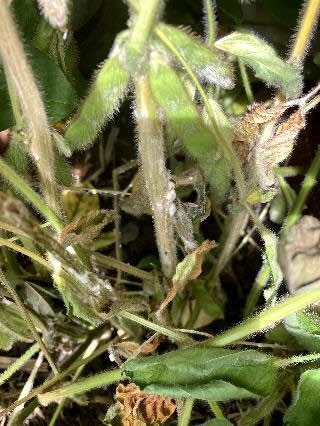 2. Growing Degree Days (See: Climate Smart Farming Growing Degree Day Calculator)
Growing degree days (GDD) are calculated by taking the average daily temperature and subtracting the base temperature for development of a given organism ((High + Low)/2 - base temp = GDD). For corn, we are using base 50/86, as corn development starts at 50 degrees F and ceases above 86. Check your location, planting date, and silking date. Silage corn needs 750-800 GDD (depending on hybrid maturity) after silking to reach a whole plant DM of 32%. Under typical late season dry down conditions we can expect the crop to reach 35% DM four to seven days later (Remember that we can expect to accumulate 20-25 GDD per day, or even up to 30, so this is not a large window). For more details, see this article. No matter what the numbers say, always check your crop to see how close you may be to harvest: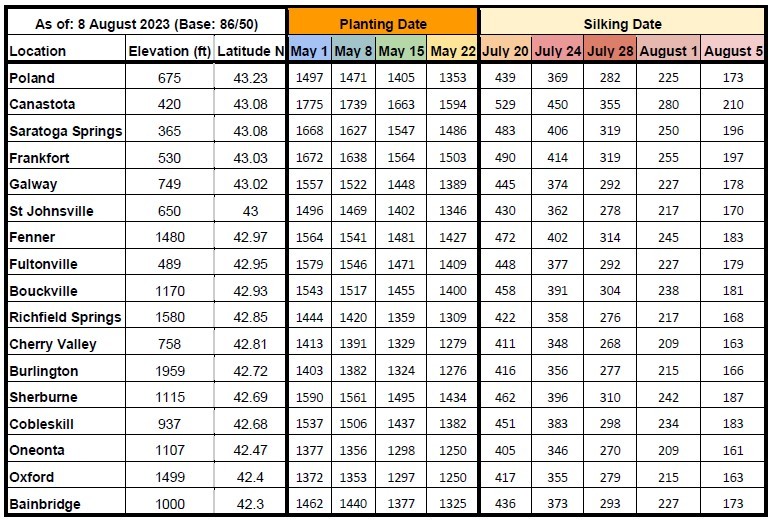 3. Pest Monitoring
Potato leafhopper (PLH) in alfalfa - Fields sampled by Ashley Bound and Emily Anderson (CCE Chenango), working with local FFA chapters across our region to sweep alfalfa fields this year (funding provided by the Chobani Community Impact Fund).
Fields elsewhere in our region that are usually swept were either recently cut or the weather prevented us from sweeping this week. So we'll try again next week:
Action thresholds are determined by comparing average crop height and average number of potato leafhoppers per sweep (at least 3 sets of 10 sweeps in different parts of the field) using a 15" diameter sweep net.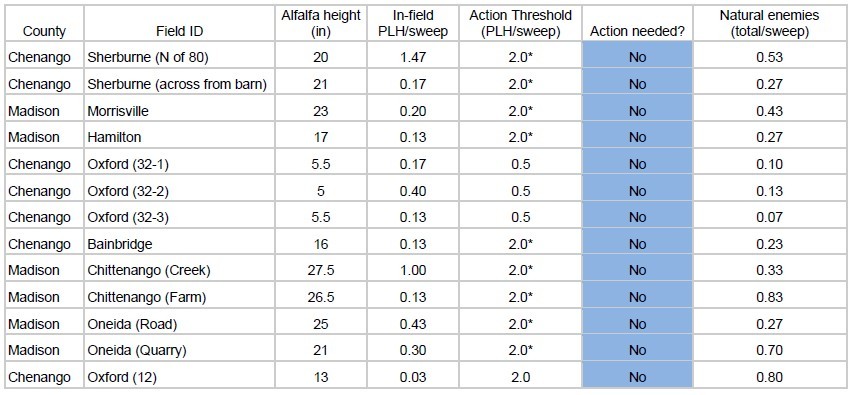 *No action needed if crop is within 1 week of cutting. If not, use a short-residual insecticide.

Upcoming Events
Minority and Women-Onwed Business Enterprise (MWBE) Certification 101
December 13, 2023
Agritourism Monthly Workshops
September 18, 2023
October 16, 2023
November 20, 2023
December 18, 2023

Are you thinking of starting an agritourism business or are you currently operating one? Join our monthly lunch-hour, workshop virtual series and learn how to grow your agritourism business!
2024 Agricultural Marketing Webinar Series
January 8, 2024
January 22, 2024
January 29, 2024
February 12, 2024
February 19, 2024
March 11, 2024
March 25, 2024

Announcements
Sign Up for Our Weekly E-Newsletter
We send out a bi-weekly e-newsletter that has announcements, upcoming programs, and opportunities for you! Registration is quick, easy, and free.
Click here to sign up today!
Spotted Lanternfly
Lycorma delicatula
, or Spotted Lanternfly (SLF), is an invasive plant hopper from Asia and is an agricultural pest. In the United States, it was first found in Pennsylvania in 2014. Spotted Lanternfly has been found in New York State on Staten Island, all New York City boroughs, Long Island, Port Jervis, Sloatsburg, Orangeburg, Ithaca, Binghamton, Middletown, Newburgh, Highland, and the Buffalo area. SLF threatens the agriculture and forestry industries, and is also a nuisance pest. The nymphs and adults feed on over 70 different plants, but is especially detrimental to grapes, a black walnut, hops, maple trees and apples. New York State Ag and Markets supported CCE efforts to help bring awareness to communities and we developed this Public Service Announcement and would appreciate you sharing it with your member lists.



CCE Livestock Program Work Team
See the
Livestock Program Work Team website
for news, upcoming programs, and NYS Slaughterhouse Map.