Field Crop Update, September 7, 2023
Erik Smith, Area Field Crop Specialist
Central New York Dairy and Field Crops
September 7, 2023
1. Announcements and Weather Outlook
It may have been hot this week, but our growing degree days (GDD) across the region are either at, below, or well below normal. Couple this with the dry spring conditions that caused late/uneven emergence, and we're looking at many or most corn silage harvests in our region starting in 10-14 days. But certainly there are likely to be fields in Saratoga County and nearer to the Hudson Valley that may be ready in a few days, given their relatively warmer climate. So while the GDD chart in section 2 has a few locations and silking dates that would suggest that chopping season is here for some of us, how close you are to harvest maturity will depend heavily on local conditions. So keep an eye on your crop!
If you have weed populations that you suspect may be resistant to herbicides (and it's not already been confirmed), please get in touch! Cornell has an herbicide resistance screening program, and we can help determine if your problem weeds truly are resistant. Successful management is only possible when you're armed with the knowledge of what you're dealing with.
And here's another reminder that Cover crop planting season is here. There is still plenty of time to plant a great cover crop that will achieve your goals for that ground. Check out this short article for info on fall oat, wheat, and rye, and check out the links at the top of the page to learn more about other cover cropping strategies.
Weather Outlook: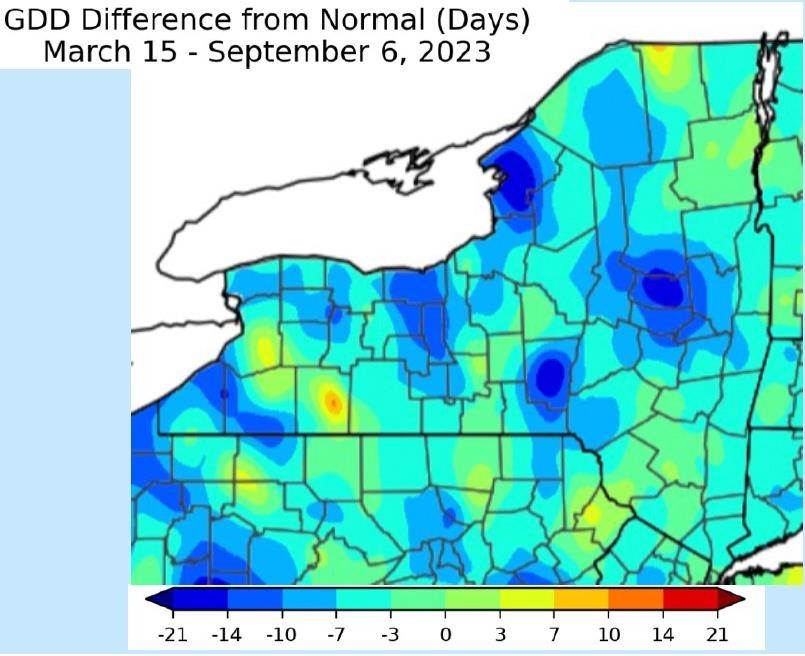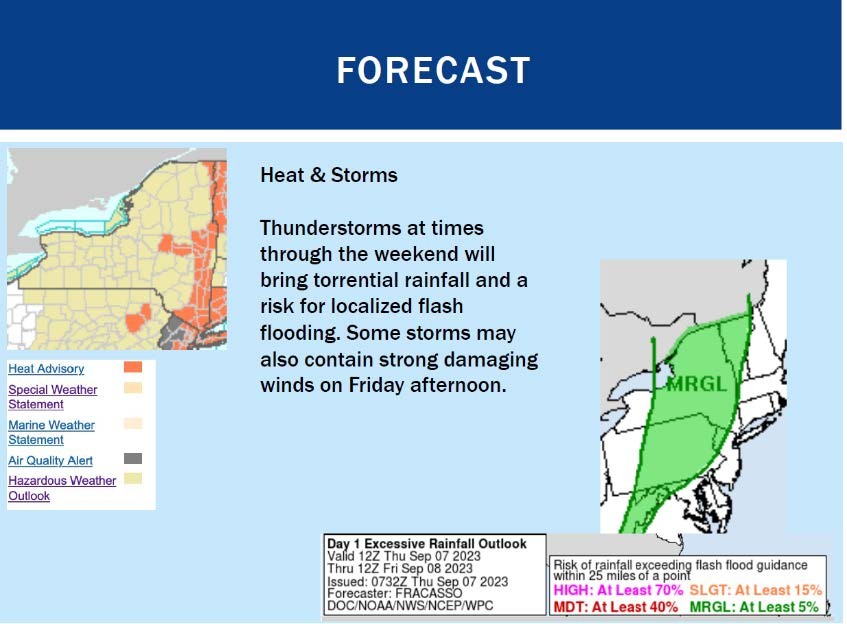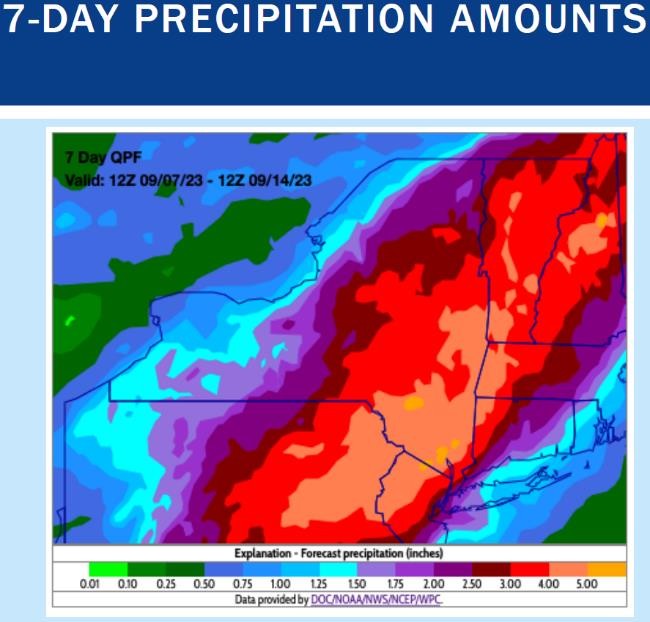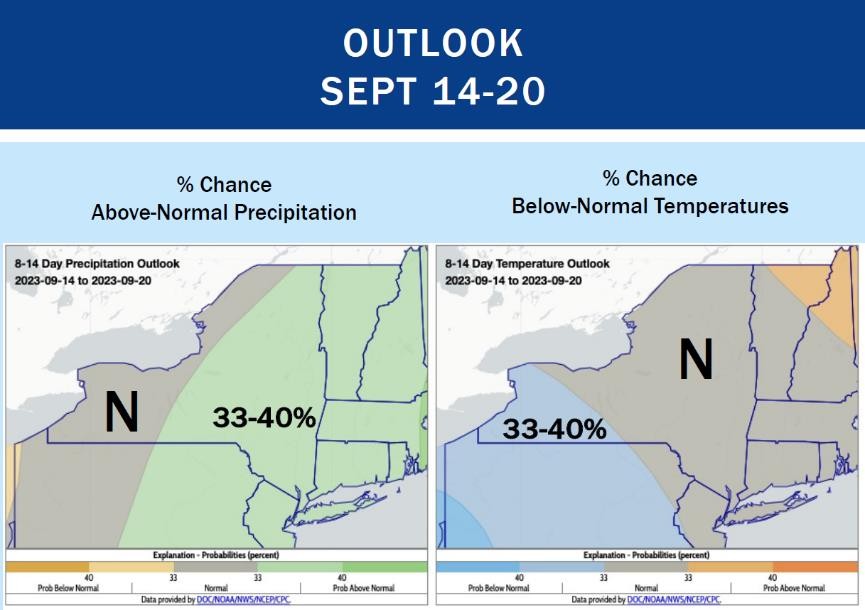 2. Growing Degree Days See: Climate Smart Farming Growing Degree Day Calculator. Check your location, planting date, and silking date. Silage corn needs 750-800 GDD (depending on hybrid maturity) after silking to reach a whole plant DM of 32%. Under typical late season dry down conditions we can expect the crop to reach 35% DM four to seven days later (Remember that we can expect to accumulate 20-25 GDD per day, or even up to 30, so this is not a large window). For more details, see this article. No matter what the numbers say, always check your crop!

Highlighted in Blue: Time to make plans (35% DM anywhere between 5 - 11 days from now, depending on maturity)

Highlighted in Green: Gas up the harvester and the trucks (35% DM in 2 - 8 days, depending on maturity)
Highlighted in Yellow: See you in the field (35% M in less than a week
Highlighted in Red: It's either already in the bunk or it's going for high-moisture corn or it's going in the bin for grain (DM likely > 35-40%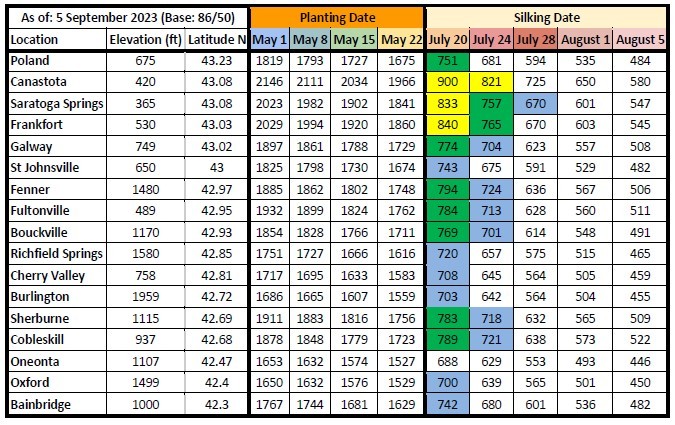 Upcoming Events
Minority and Women-Onwed Business Enterprise (MWBE) Certification 101
December 13, 2023
Agritourism Monthly Workshops
September 18, 2023
October 16, 2023
November 20, 2023
December 18, 2023

Are you thinking of starting an agritourism business or are you currently operating one? Join our monthly lunch-hour, workshop virtual series and learn how to grow your agritourism business!
2024 Agricultural Marketing Webinar Series
January 8, 2024
January 22, 2024
January 29, 2024
February 12, 2024
February 19, 2024
March 11, 2024
March 25, 2024

Announcements
Sign Up for Our Weekly E-Newsletter
We send out a bi-weekly e-newsletter that has announcements, upcoming programs, and opportunities for you! Registration is quick, easy, and free.
Click here to sign up today!
Spotted Lanternfly
Lycorma delicatula
, or Spotted Lanternfly (SLF), is an invasive plant hopper from Asia and is an agricultural pest. In the United States, it was first found in Pennsylvania in 2014. Spotted Lanternfly has been found in New York State on Staten Island, all New York City boroughs, Long Island, Port Jervis, Sloatsburg, Orangeburg, Ithaca, Binghamton, Middletown, Newburgh, Highland, and the Buffalo area. SLF threatens the agriculture and forestry industries, and is also a nuisance pest. The nymphs and adults feed on over 70 different plants, but is especially detrimental to grapes, a black walnut, hops, maple trees and apples. New York State Ag and Markets supported CCE efforts to help bring awareness to communities and we developed this Public Service Announcement and would appreciate you sharing it with your member lists.



CCE Livestock Program Work Team
See the
Livestock Program Work Team website
for news, upcoming programs, and NYS Slaughterhouse Map.