Sorry, Pre-Registration for has passed.
Integrated Parasite Management for Goats & Sheep Workshop - Herkimer
---
Event Details
Date
September 28, 2021
Time
12pm - 3pm
Location
CCE Herkimer County
5657 State Route 5
Herkimer, NY 13350
Cost
Registration : $30.00
(addl attendee $15.00 ea.)
Host
Central New York Dairy and Field Crops
Ashley McFarland
315-604-2156
email Ashley McFarland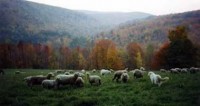 Internal parasites are one of the largest health issues that affect sheep and goats across the country. A lot of producers are unaware how important it is to understand parasites in their flocks. In this workshop, producers will be taught the basics of parasite control as well as how to develop integrated parasite management programs for their farms that include evasive grazing and selective deworming and/or alternative treatments. We will also go over the current status of several alternative methods of parasite control.
As part of this workshop you will receive hands-on training on
1) how to use the FAMACHA© Anemia Guide (good only for the barber pole worm) and five point checks to determine the need for treatment
2) how to do fecal egg identification and analysis.
You are encouraged to bring a refrigerated fecal sample of 8 to 10 fecal pellets in a baggie from one sheep or goat at your farm to the workshop. In the interest of biosecurity please wear clean clothes and shoes to the workshop and plan to change them prior to doing your own farm chores.
Includes FAMACHA card.
The speakers are Dr. tatiana L. Stanton, Cornell Sheep & Goat State Extension Specialist and Janice Liotta from the Cornell University Dwight Bowman Parasitology Lab.
Limited to 10 participants.


Upcoming Events
Farmer Tax School Series - Income Tax Planning for Farms that File a Schedule F
October 13, 2021
October 20, 2021
October 27, 2021

A three-part series for farms that are already filing a Schedule F covering tax planning and goals, handling farm profits/losses, and strategies to improve your tax position while also working positively with your accountant/tax preparer.
Annie's Project: Risk Management for Farm Women
November 1, 2021
November 4, 2021
November 8, 2021
November 11, 2021
November 15, 2021
November 18, 2021
November 29, 2021
December 2, 2021
December 6, 2021
December 9, 2021
December 13, 2021
December 16, 2021

Are you a woman engaged in farming in NYS? Would you like to learn and network with other farm women, and learn how to strengthen your farming operation? Join Cornell Cooperative Extensions of Allegany, Broome, Oneida, Steuben, and Seneca counties, along with the Central NY Dairy, Livestock & Field Crops team, for our first virtual Annie's Project this winter!
Introduction to Sheep Production Series
November 1, 2021
November 8, 2021
November 15, 2021

Announcements
Sign Up for Our Weekly E-Newsletter
We send out a weekly e-newsletter that has announcements, upcoming programs, and opportunities for you! Registration is quick, easy, and free.
Click here to sign up today!
CCE Livestock Program Work Team
See the
Livestock Program Work Team website
for news, upcoming programs, and NYS Slaughterhouse Map.
Updated Meeting Guidelines
Effective June 1, 2021, the size limit for outdoor field meetings (including open-air, well ventilated barns) may be held up to 500 participants.
Effective June 11, 2021, the size limit for indoor meetings may be held up to 250 participants. If the indoor event is held at a business, the business may implement other requirements for participants in accordance with NYS and CDC guidelines, which may include requiring proof of vaccination, separate individuals and designate part of the establishment based on vaccination status, and require masks/social distance for all patrons or just those unvaccinated.
For both types of meetings, masks are only required for unvaccinated attendees and they also need to maintain 6' social distance during the event. Vaccination status is based on self-reporting. Masks and hand sanitizer will be available for participants. The NYS, CDC, and Cornell University guidelines will be monitored and we will adjust meeting guidance accordingly.
Dairy Producer Considerations When Dealing with High Grain Prices
by David R. Balbian, CCE Area Dairy Management Specialist
We have been here before. Back in mid-July of 2012, corn got up over $8.00/bu @ the Chicago Board of trade. As I write this corn is approaching $7.00/bu. Soybeans got up to the mid $17/bu. range in late August of 2012. Again, as I write this soybeans are in the mid-$15 range. Your cows do not care what these prices are. Major knee jerk cutbacks on grain feeding that shorts the cows on their nutritional requirements will only make a bad situation worse. Saving $1.00 on grain and losing $1.50 or $2.00 is bad business. The long-term impacts on reproduction will have lingering effects. Low production cannot be turned around until a new lactation begins. So, what to do? Although they will not be possible for everyone to implement, here are some tips and ideas to consider:
If you have your own corn grain or HMSC you are feeling good right now.
Harvest cover crops for feed in the very early boot stage. Wide swath mowing for quick drying and harvest between 35% to 40% dry matter will give you better results and retain nutrients. Check out Winter Forage: Windrow Compost vs. Photosynthetic Drying from Advanced Ag Systems' regarding wide swath mowing & quick drying. A link to the following article by Ralph Ward of Cumberland Valley Lab provides additional helpful details on the benefits of the proper dry matter: Avoid Fermentation Failure in Spring Silage
Timely harvest your first cutting & subsequent cuttings. Be on the lookout for our team's First Cutting Forage Quality data from Dr. Erik Smith every Tuesday evening or Wednesday morning. We are monitoring around 60 fields in our region. You will see targeted harvest dates for dairy quality feed.
Applying nitrogen to grasses can up crude protein levels (and yield). It may already be a bit late for some first cutting fields, but applications right after first cutting can really boost second cut yields and crude protein levels (reducing the need to purchase grain protein).
BMR Corn Silage could be more attractive now. Assess your own situation and consider it this year.
It's a long ways off, but if high corn grain prices persist high chopping corn silage this fall is something to consider if you have plenty of inventory.
Moving to a high corn silage diet if you have the inventory can reduce corn grain needs and may allow you to utilize some low cost protein such as feed grade urea. Work with your nutritionist to evaluate this option.
Look for & reduce feed shrink. This is spilled, wasted or spoiled feed. You can no longer afford excessive shrink.
Strategic group cows so you are not overfeeding late lactation cows.
Look around at various protein sources. Soybean meal is not the only game in town.
Be sure you are getting all you can out of the corn grain you are feeding. Grind it finer. Coarse ground corn is more likely to pass undigested.
Farmland Protection Implementation Grants Program
$52.5 MILLION AVAILABLE TO PROTECT NEW YORK FARMLAND
State Dedicates Highest Level of Funding Ever to Protect Valuable and At-Risk Farmland

Each of New York's 10 Regions Will Be Allocated $5 Million for Conservation Easement Projects Eligibility Opportunities Expanded to Agroforestry, Equine, and Wine Sectors
Round 18 FPIG continues New York State's commitment to provide financial assistance to locally led farmland protection efforts. The
Farmland Protection Implementation Grants Program
provides financial assistance to counties, municipalities, soil and water conservation districts, and land trusts to enable them to implement farmland protection activities consistent with local agricultural and farmland protection plans. The most frequently funded activity is the purchase of agricultural conservation easements on individual farms. However, the program may also award funding to enable other implementation activities, such as amendments to local laws affecting agriculture, option agreements, and covering the transaction costs of donated agricultural conservation easements.
All farmland protection project applications must be submitted electronically through the New York State Grants Gateway.
More information regarding the Grants Gateway can be found here
.
Municipalities, counties, Soil and Water Conservation Districts, and land trusts are eligible to apply for grants of up to $2 million each to help offset the costs of individual conservation easement projects that protect viable agricultural land from being converted to non-agricultural use.
Eligibility criteria for the program have been adjusted to include the agroforestry, equine, and wine sectors, reflecting New York's diverse agricultural industry. In addition, other closely aligned State goals have been integrated into the eligibility criteria to allow multiple objectives for certain projects, including food security, climate resiliency, and source water protection. Another first for the program, an incentive payment is now available to participating landowners whose project specifically incorporates climate resiliency or source water protection. Soil health assessments are also now an eligible project cost.
There is no application deadline and applications will be accepted on a rolling basis until available funds have been awarded to eligible projects.
This funding opportunity continues the state's commitment to provide financial and technical assistance for farmland protection on a predictable two-year cycle and builds on the recent additions of the successful FPIG Dairy Transitions Farmland Protection Initiative and the FPIG Farm Operations in Transition Farmland Protection Initiative.