Transition Cow Tuesdays
---
Event Details
Date
November 2, 2021
November 9, 2021
November 16, 2021
November 23, 2021
November 30, 2021
December 7, 2021
December 14, 2021

Time
12:30pm - 1pm
Location
Zoom

Host
PRO-DAIRY

Kathy Barrett
email Kathy Barrett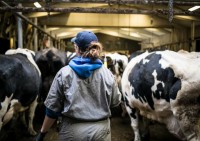 Have you…
been working with the farm transition cow program but want to know more about the how, what and why?
wanted to improve the transition cow performance of your herd but need to know where to start?
wanted to increase the skills you bring to the farm or your farm employer?
been wondering where you'll find the time to attend a course or workshop?
If so, this webinar series is designed for you! The webinars are short, to the point, and just 30 minutes. Grab your lunch and join us. Generous sponsors have enabled us to offer this series free of charge. Registration is required. One registration provides access to all the webinars in the series. Visit their website for more information.
Topics include:
Transition Cow Nutrition
Feeding the Transition Cow
Selective Dry Cow Therapy
Facility Considerations
Calving Considerations
Post Calving Monitoring
Evaluating Transition Management
If you are sponsoring this event, send your slide to cnydlfc@cornell.edu


Upcoming Events
2022 Annie's Project: Know Your Numbers, Know Your Options
January 25, 2022
February 1, 2022
February 8, 2022
February 15, 2022
February 22, 2022

This five part series empowers farm women to prepare and analyze their own financial statements, enhance farm business decision making, and effectively communicate with their team.
Net Zero for NY Dairy: What You Need to Know
February 2 - February 3, 2022
This conference has gathered dairy industry experts to shed light on what "getting to net zero" means for dairy producers. Sponsorship opportunity available.
Field Crop Weed ID and Control Series

February 2, 2022
February 16, 2022
February 23, 2022
March 2, 2022
March 9, 2022
March 16, 2022

6 Free Webinars: attend all or any.
Announcements
Sign Up for Our Weekly E-Newsletter
We send out a weekly e-newsletter that has announcements, upcoming programs, and opportunities for you! Registration is quick, easy, and free.
Click here to sign up today!
CCE Livestock Program Work Team
See the
Livestock Program Work Team website
for news, upcoming programs, and NYS Slaughterhouse Map.
Updated Meeting Guidelines
Effective June 1, 2021, the size limit for outdoor field meetings (including open-air, well ventilated barns) may be held up to 500 participants.
Effective June 11, 2021, the size limit for indoor meetings may be held up to 250 participants. If the indoor event is held at a business, the business may implement other requirements for participants in accordance with NYS and CDC guidelines, which may include requiring proof of vaccination, separate individuals and designate part of the establishment based on vaccination status, and require masks/social distance for all patrons or just those unvaccinated.
For both types of meetings, masks are only required for unvaccinated attendees and they also need to maintain 6' social distance during the event. Vaccination status is based on self-reporting. Masks and hand sanitizer will be available for participants. The NYS, CDC, and Cornell University guidelines will be monitored and we will adjust meeting guidance accordingly.