Agricultural Safety Health and Risk Management Certificate Program
---
Event Details
Date
November 15 - November 16, 2022
Time
8am - 5pm
Location
Sunnyside Farm
2243 Indian Field Rd
Scipio Center, NY 13147
Host
Agricultural Safety and Health Council of America (ASHCA)

Aaron Yoder
571-293-1908
email Aaron Yoder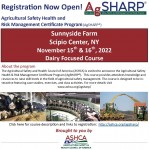 Cost: $300 for ASHCA members. $350 for non-members
About the program
This 2 day course provides attendees knowledge and resources to raise skill levels in the field of agricultural safety management. The course is designed to be interactive featuring case studies, exercises, and class activities. The program is geared for owners, safety and human resource managers, loss control and safety consultants, safety and workers' compensation professionals, and others responsible for agricultural production and business safety in the workplace. For more details, click here.
DRAFT COURSE AGENDA AT A GLANCE 8:00 AM TO 5:00 PM DAILY
Day 1
Approaching and Managing Risk Principles and Concepts
Management Leadership (Safety Culture)
Employee Involvement
Hazard Identification and Assessment
Hazard Prevention and Control
Specific Hazards and Training Resources
(Confined Space, Silage, Manure Tanks and Lagoons, Tractor Safety, Mobile Equipment, Machine Guarding, ATV / UTV, Slips, Trips and Falls)
Day 2
Health Hazards: Zoonotic, Respiratory, Noise, Heat & Cold
Animal Handling Hazards
Responding to Farm/Ranch Emergencies
OSHA and Ag: Required Written Programs
Workers Compensation Insurance
Effective Accident Investigations: Turning Them into a Powerful Tool
Education and Training Principles
Program Evaluation and Improvement
The Cost/Benefit of Safety and Health: Demonstrating Impact on the Bottom Line
Dairy Safety Training and Management Resources
Summary Comments - Presentation of Certificates and AgSHARP® Materials
Registration Information
Attendance is limited due to the class exercises and interactive nature of the program.
Registration includes course materials, refreshments, and lunch.
Lodging
You are responsible for making your own travel and hotel reservations.
Certificate
Attendees will receive an AgSHARP® certificate of completion.


Upcoming Events
Manure Management & CAFO Permit Workshop - Waterville
December 6, 2022
Waterville, NY
Lunch included. CCA Credits available. This event will count as a DEC approved manure applicator training for CAFO permitees.
Manure Management & CAFO Permit Workshop - Ballston Spa
December 8, 2022
Ballston Spa, NY
Lunch included. CCA Credits available. This event will count as a DEC approved manure applicator training for CAFO permitees.
Artificial Insemination Training Course
December 12 - December 13, 2022
Little Falls, NY
Two day course. Lunch included. The course will have classroom and practical components. Registration limited to 12 people.
Announcements
Spotted Lanternfly
Lycorma delicatula
, or Spotted Lanternfly (SLF), is an invasive plant hopper from Asia and is an agricultural pest. In the United States, it was first found in Pennsylvania in 2014. Spotted Lanternfly has been found in New York State on Staten Island, all New York City boroughs, Long Island, Port Jervis, Sloatsburg, Orangeburg, Ithaca, Binghamton, Middletown, Newburgh, Highland, and the Buffalo area. SLF threatens the agriculture and forestry industries, and is also a nuisance pest. The nymphs and adults feed on over 70 different plants, but is especially detrimental to grapes, a black walnut, hops, maple trees and apples. New York State Ag and Markets supported CCE efforts to help bring awareness to communities and we developed this Public Service Announcement and would appreciate you sharing it with your member lists.



Sign Up for Our Weekly E-Newsletter
We send out a bi-weekly e-newsletter that has announcements, upcoming programs, and opportunities for you! Registration is quick, easy, and free.
Click here to sign up today!
CCE Livestock Program Work Team
See the
Livestock Program Work Team website
for news, upcoming programs, and NYS Slaughterhouse Map.