Sorry. Online registration has closed.
Hands-on Calving & Dystocia Workshop - Spanish Speaking Only
---
Event Details
Date
March 24, 2023
Time
10:30am - 2:30pm
Location
CCE Madison County
100 Eaton St
Morrisville, NY 13408
Cost
Spanish Speaking Registration : $75.00
(addl attendee $75.00 ea.)
English Speaking Waiting List : Free
Host
Central New York Dairy and Field Crops
David Balbian
518-312-3592
email David Balbian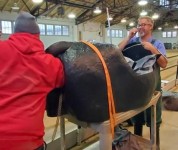 Program ends at 2:30pm, but there is an opportunity to stay longer and get more practice with the Dystocia Model.
Knowing the stages of labor and recognizing when a cow needs assistance are important skills. This workshop will educate attendees on those skills and will include a hands-on experience with a life size model of a cow ready to calve along with her calf. Attendees will be able to practice a variety of dystocia situations.
Topic at Each Station:
Delivering the Calf with the Dystocia Model
Stages of Labor & Using the Calving Tools
Neonatal Management
Postpartum Cow Care
Registration is limited to 8 Spanish speaking attendees. English speaking waiting list is also available.


Upcoming Events
*CANCELLED* Artificial Insemination Training Course ~ Spanish
June 12 - June 13, 2023
Little Falls, NY
*CANCELLED* Two-day course. Lunch included. The course will have classroom and practical components. Registration limited to 12 Spanish speaking individuals. AI tool kits also available for an additional cost.
Ardent Mills Tour and Marketing Local Grains
June 23, 2023
Albany, NY
An education and networking opportunity for conventional & organic grain growers, organic grain buyers and ag professionals.
Announcements
Dave Balbian is Retiring
I have decided that it's time to retire. I find myself at a point in time where I'm now beginning to work with the 3rd generation of people on the farms in our region. It's time to bring in some new young blood into the team. June 28th will be my last official day on the job. I've enjoyed working with you all. The real satisfaction I've had with my work has been seeing producers take my advice and then be successful with it as they moved their business and family forward.
Spotted Lanternfly
Lycorma delicatula
, or Spotted Lanternfly (SLF), is an invasive plant hopper from Asia and is an agricultural pest. In the United States, it was first found in Pennsylvania in 2014. Spotted Lanternfly has been found in New York State on Staten Island, all New York City boroughs, Long Island, Port Jervis, Sloatsburg, Orangeburg, Ithaca, Binghamton, Middletown, Newburgh, Highland, and the Buffalo area. SLF threatens the agriculture and forestry industries, and is also a nuisance pest. The nymphs and adults feed on over 70 different plants, but is especially detrimental to grapes, a black walnut, hops, maple trees and apples. New York State Ag and Markets supported CCE efforts to help bring awareness to communities and we developed this Public Service Announcement and would appreciate you sharing it with your member lists.



Sign Up for Our Weekly E-Newsletter
We send out a bi-weekly e-newsletter that has announcements, upcoming programs, and opportunities for you! Registration is quick, easy, and free.
Click here to sign up today!
CCE Livestock Program Work Team
See the
Livestock Program Work Team website
for news, upcoming programs, and NYS Slaughterhouse Map.