Perspectives on the Opportunities and Impacts of Solar Installation in Agricultural Areas
---
Event Details
Date
September 28, 2023
October 12, 2023
October 26, 2023
November 9, 2023
November 22, 2023

Time
Noon - 1:15pm
Location
Zoom

Host
Cornell Cooperative Extension Herkimer County

Garet Livermore
315-866-7920
email Garet Livermore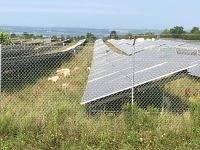 In a continued collaboration between Cornell Cooperative Extension, Pennsylvania, and Farm Bureaus of Ohio, Pennsylvania and New York this series of webinars will explore the continued push for development of solar energy projects in agricultural areas of the Northeast. This five part series will address the topic from multiple perspectives and help to identify the opportunities and challenges as well as currently know best practices for integrating the need for renewable energy with other economic and social factors.
Click on each session name to register. Register for one or all sessions in this series. All sessions are free.
Session #1: Impacts of Large-Scale Solar on Rural Communities - A Research Perspective
Thursday, September 28th 12 pm - 1:15 pm
Research into this topic is still relatively new; however, initial studies offer some insight into how the perceptions, impacts and opportunities around solar and land use. This session will explore current finding on key issues in rural communities, decision making metrics being developed through this research and how communities can integrate these metrics. Additionally, the potential tradeoffs between energy and agriculture and emerging opportunities in agrivoltaics will be discussed.
Session #2: Solar and Agriculture - A Company's Perspective on the Challenges and Pathways to Successful Integration of Both
Thursday, October 12th 12 pm - 1:15 pm
Developers of large-scale solar facilities are interested in optimizing the use of the land within the project footprint and continue to work to understand the opportunities and challenges of agrivoltaics, or dual use, setups. The session will also explore the key aspects of the decision-making process developers use for site selection and how they weigh these factors against impacts on land use, particularly when the location contains soil types identified as prime for agriculture production.
Moderator: Jeff Williams, NY Farm Bureau JWilliams@nyfb.org
Panelist:
Session #3: A Farmer's Perspective on Solar
Thursday, October 26th 12 pm - 1:15 pm
Farmers who have looked closely at solar electricity production on their land will discuss their experiences with developers, and their perceptions of the benefits and challenges of solar for agriculture. Discussion will include differences in the scale of solar projects, how solar might impact farmers in varied circumstances, and ideas for optimizing the benefits of a nd mitigating the challenges of solar for agriculture.
Session #4: A Community Perspective on Solar
Thursday, November 9th 12 pm - 1:15 pm
Expanding out beyond the impacts to individual landowners, solar develop can have broader opportunities and challenges for the rural, agricultural based communities that host them. This session will offer observations and ideas for the community level on best practices for successfully integrating solar as a land use. When it is a competing land use and when it can be a complementary land use.
Session #5: Question and Answer
Wednesday, November 22nd 12 pm - 1:15 pm
A Q&A to cover any and all of the previously presented material in Sessions 1-4 featuring the speakers from this series.


Upcoming Events
Minority and Women-Onwed Business Enterprise (MWBE) Certification 101
December 13, 2023
Agritourism Monthly Workshops
September 18, 2023
October 16, 2023
November 20, 2023
December 18, 2023

Are you thinking of starting an agritourism business or are you currently operating one? Join our monthly lunch-hour, workshop virtual series and learn how to grow your agritourism business!
2024 Agricultural Marketing Webinar Series
January 8, 2024
January 22, 2024
January 29, 2024
February 12, 2024
February 19, 2024
March 11, 2024
March 25, 2024

Announcements
Sign Up for Our Weekly E-Newsletter
We send out a bi-weekly e-newsletter that has announcements, upcoming programs, and opportunities for you! Registration is quick, easy, and free.
Click here to sign up today!
Spotted Lanternfly
Lycorma delicatula
, or Spotted Lanternfly (SLF), is an invasive plant hopper from Asia and is an agricultural pest. In the United States, it was first found in Pennsylvania in 2014. Spotted Lanternfly has been found in New York State on Staten Island, all New York City boroughs, Long Island, Port Jervis, Sloatsburg, Orangeburg, Ithaca, Binghamton, Middletown, Newburgh, Highland, and the Buffalo area. SLF threatens the agriculture and forestry industries, and is also a nuisance pest. The nymphs and adults feed on over 70 different plants, but is especially detrimental to grapes, a black walnut, hops, maple trees and apples. New York State Ag and Markets supported CCE efforts to help bring awareness to communities and we developed this Public Service Announcement and would appreciate you sharing it with your member lists.



CCE Livestock Program Work Team
See the
Livestock Program Work Team website
for news, upcoming programs, and NYS Slaughterhouse Map.