Event Details
Date
December 6, 2019
Time
2pm
Host
Central New York Dairy, Livestock & Field Crops
CNY Feeder Calf Sale
December 6, 2019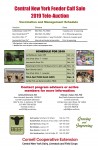 Please call CCE Herkimer County to register and get a bidding number at
(315) 866-7920 (M-F 8:30am - 4:30pm, closed 11/27-28 for Thanksgiving).
Live auction with online & phone bidding Friday, December 6th at 2pm



Meeting ID: 392 513 169




Join by cell: one tap mobile

16468769923,,392513169#




By phone:

1 (646) 876-9923

Note that you may bid in person at the CCE Herkimer Office, 5657 State Route 5, Herkimer, NY 13350.
At the link below, you will see the lots and descriptions of feeder calves that will be auctioned Friday December 6th. There are 14 lots, 34 steers and 38 heifers, 72 in total. They were graded using USDA Feeder Calf Standards and sorted into similar weight groups. Our goal was to provide gender sorted cattle for specific programs (grass finished, Natural) in a weight spread less than 100 lb in each lot.
These producers are committed to providing calves that are either double vaccinated or have used modified live vaccinations for IBR, BRSV, PI3, BVD, weaned, on feed and clostridia, M. haemolytica, wormed and treated for external parasites. These calves have never received growth promoting hormones and never fed antibiotics (except as noted), qualifying them for some natural programs.
2019 CNY Feeder Calf Brochure (PDF; 2275KB)
CNY Feeder Calf Poster (PDF; 2283KB)