Livestock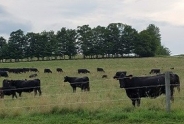 The livestock industry in New York totals $2.4 billion. For livestock marketing, New York ranks 39th for cattle and calf production, 20th for egg production, 24th for chicken production excluding broilers, 30th for hog and pig production, and 25th for sheep and lamb production.
Past Relevant Events
Raising Your Bull Calves Can Add to Your Dairy Farm Profitability
December 7 - December 8, 2015
10am-2pm
Beef Producer Meeting
July 20, 2017
6:30 pm
Little Falls, NY
Why Should You Vaccinate Beef Cattle?
October 26, 2017
6:30 pm
Herkimer, NY
No Writings Offered at this Time
Upcoming Events
2018 Dairy Day
March 13, 2018
10:00am-3:15pm
Cooperstown, NY
2018 Dairy Day~Register now!

Announcements
2017 Corn Silage Trial Information
Many of you have been looking for the 2017 corn silage trial information and preliminary results have been released. The predicted milk yields with the Cornell Net Carbohydrate and Protein System (CNCPS) model will be completed in the coming weeks but wanted to supply you with this preliminary report now.

One reporting difference from last year is that the uNDF 240 is listed as a percent of NDF not of dry matter so the number is larger but the relationship the same: a lower uNDF 240 value indicates better performance.

Central New York Dairy, Livestock & Field Crops - Cornell Cooperative Extension
Your Trusted Source for Research-Based Knowledge