Precision Feeding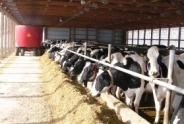 Precision Feed Management is providing adequate, not excess, nutrients to the animal while maintaining environmental and economic sustainability through the integration of feeding and forage management.
Most Recent Precision Feeding Content
Calculating Marginal Milk Protein Income
David Balbian, Area Dairy Specialist
Central New York Dairy and Field Crops
Last Modified: May 18, 2014

Balancing amino acids can lead to higher profitability by higher milk protein but there is a cost. Suggestions on how to calculate if balancing will pay for you.

Upcoming Events
Beef Quality Assurance Training
July 30, 2018
6:00 pm
Oneonta, NY
Beef Quality Assurance "BQA" TrainingWhen:
Monday, July 30th, at 6:00pm
Where:
Maidens Farm - 477 County Road 11, Oneonta NY 13820
Cost:
$15 (beverages, pizza, dessert provided)
Registration:
Deadline July 27, 2018
Beef Producer Meeting
July 31, 2018
6:30 pm
Hubbardsville, NY
The CNY Dairy, Livestock and Field Crops Team is hosting a meeting for local beef producers.
Announcements
Welcome Nicole Tommell~Farm Business Management Specialist
We welcome Nicole Tommell as the new agricultural business management specialist on the Central New York Dairy, Livestock and Field Crops team. Nicole will provide leadership for planning and developing programing that emphasizes business management and profitability. Thanks to the CCE associations in the region and Cornell for expanding our team's capacity to meet the educational needs of the ag industry in Chenango, Fulton, Herkimer, Madison, Montgomery, Otsego, Saratoga and Schoharie Counties.
Nicole received her Bachelor of Technology degree from SUNY Cobleskill in Agricultural Business. She also holds a Masters in Agricultural Education from North Carolina State University. Before joining the team, Nicole was a Visiting Instructor at SUNY Cobleskill teaching courses ranging from agricultural business to animal science. She has also managed a diversified cattle operation she owns with her husband.
Her primary goal will be to provide business analysis, planning and development support for agricultural businesses in the region. Please welcome Nicole to the team.
You can reach Nicole at:
Phone: 315-867-6001
E-mail: nt375@cornell.edu
Central New York Dairy, Livestock & Field Crops - Cornell Cooperative Extension
Your Trusted Source for Research-Based Knowledge