Precision Feeding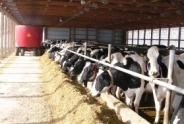 Precision Feed Management is providing adequate, not excess, nutrients to the animal while maintaining environmental and economic sustainability through the integration of feeding and forage management.
Most Recent Precision Feeding Content
Calculating Marginal Milk Protein Income
David Balbian, Area Dairy Specialist
Central New York Dairy and Field Crops
Last Modified: May 18, 2014

Balancing amino acids can lead to higher profitability by higher milk protein but there is a cost. Suggestions on how to calculate if balancing will pay for you.

Upcoming Events
Grasstravaganza ~ Save the Date!
July 25 - July 27, 2019

Save the date for this event!
Announcements
No announcements at this time.