Precision Feeding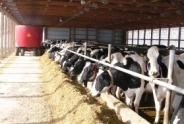 Precision Feed Management is providing adequate, not excess, nutrients to the animal while maintaining environmental and economic sustainability through the integration of feeding and forage management.
Most Recent Precision Feeding Content
Calculating Marginal Milk Protein Income
David Balbian, Area Dairy Specialist
Central New York Dairy and Field Crops
Last Modified: May 18, 2014

Balancing amino acids can lead to higher profitability by higher milk protein but there is a cost. Suggestions on how to calculate if balancing will pay for you.

Upcoming Events
Beef Producer Meeting
July 20, 2017
6:30 pm
Little Falls, NY
The CNY Dairy, Livestock and Field Crops Team is hosting a meeting for local beef producers.


Academy for Dairy Executives
December 12 - February 21, 2018

The Academy for Dairy Executives Program (Academy) is an educational opportunity for progressive dairy executives.


Announcements
2017 First Cutting Forage Quality Project
The CNY Dairy, Livestock and Field Crops Team has begun monitoring hay fields for our First Cutting Forage Quality Project. If you aren't familiar there is a very good correlation between alfalfa height and the level of Neutral Detergent Fiber in not only alfalfa but also grasses.

The team monitors fields throughout our region in May to give forage producers some idea of the optimal time to harvest that important 1st cutting. When to start varies as much as 2 weeks in our region depending where you are, elevation and soil type. Check out the Forage Quality section of our website for more information.



Central New York Dairy, Livestock & Field Crops - Cornell Cooperative Extension
Your Trusted Source for Research-Based Knowledge