Precision Feeding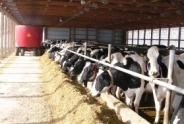 Precision Feed Management is providing adequate, not excess, nutrients to the animal while maintaining environmental and economic sustainability through the integration of feeding and forage management.
Most Recent Precision Feeding Content
Calculating Marginal Milk Protein Income
David Balbian, Area Dairy Specialist
Central New York Dairy and Field Crops
Last Modified: May 18, 2014

Balancing amino acids can lead to higher profitability by higher milk protein but there is a cost. Suggestions on how to calculate if balancing will pay for you.

Upcoming Events
PPP2/ EIDL Loan Advance/ Expansion of CFAP 1
January 26, 2021
Join Liz Higgins (Eastern NY Hort Team Ag Business Specialist), Myron Thurston (CCE Madison AED & Marketing Specialist) and Nicole Tommell (Farm Business Specialist, CNYDLFC) for an update on the Paycheck Protection Program Draft 2 as well as the EIDL advance grant for small businesses that opened on 1/17/2021. Additionally, the extension of CFAP 1&2 for specific agricultural areas that were not currently eligible for payments previously will be commented on during this time period.
Small Scale Food Processing Workshop
January 27 - January 28, 2021
If you are considering a new food processing business, or growing the one that you already have, then this workshop is for you!
Annie's Project: Risk Management for Farm Women
February 1, 2021
February 4, 2021
February 8, 2021
February 11, 2021
February 15, 2021
February 18, 2021
February 22, 2021
February 25, 2021
March 1, 2021
March 4, 2021
March 8, 2021
March 11, 2021

Announcements
No announcements at this time.