Precision Feeding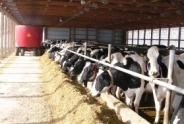 Precision Feed Management is providing adequate, not excess, nutrients to the animal while maintaining environmental and economic sustainability through the integration of feeding and forage management.
Calculating Marginal Milk Protein Income
David Balbian, Area Dairy Specialist
Central New York Dairy and Field Crops
Last Modified: May 18, 2014

Balancing amino acids can lead to higher profitability by higher milk protein but there is a cost. Suggestions on how to calculate if balancing will pay for you.



Upcoming Events
Beef Quality Assurance
July 7, 2022
July 13, 2022
August 8 - August 9, 2022August 11, 2022
October 5 - October 6, 2022
Online Classroom Trainings and Chute-side Trainings. Pick one of each.
Topics covered include cattle nutrition, handling and vaccine protocols.
Announcements
Sign Up for Our Weekly E-Newsletter
We send out a bi-weekly e-newsletter that has announcements, upcoming programs, and opportunities for you! Registration is quick, easy, and free.
Click here to sign up today!
CCE Livestock Program Work Team
See the
Livestock Program Work Team website
for news, upcoming programs, and NYS Slaughterhouse Map.
Farm Service Agency is Hiring!
Internship/Temporary Positions through 9/30 available. Looking to fill 5 vacancies in Eastern New York.